A client's journey…how to get your very own custom made furniture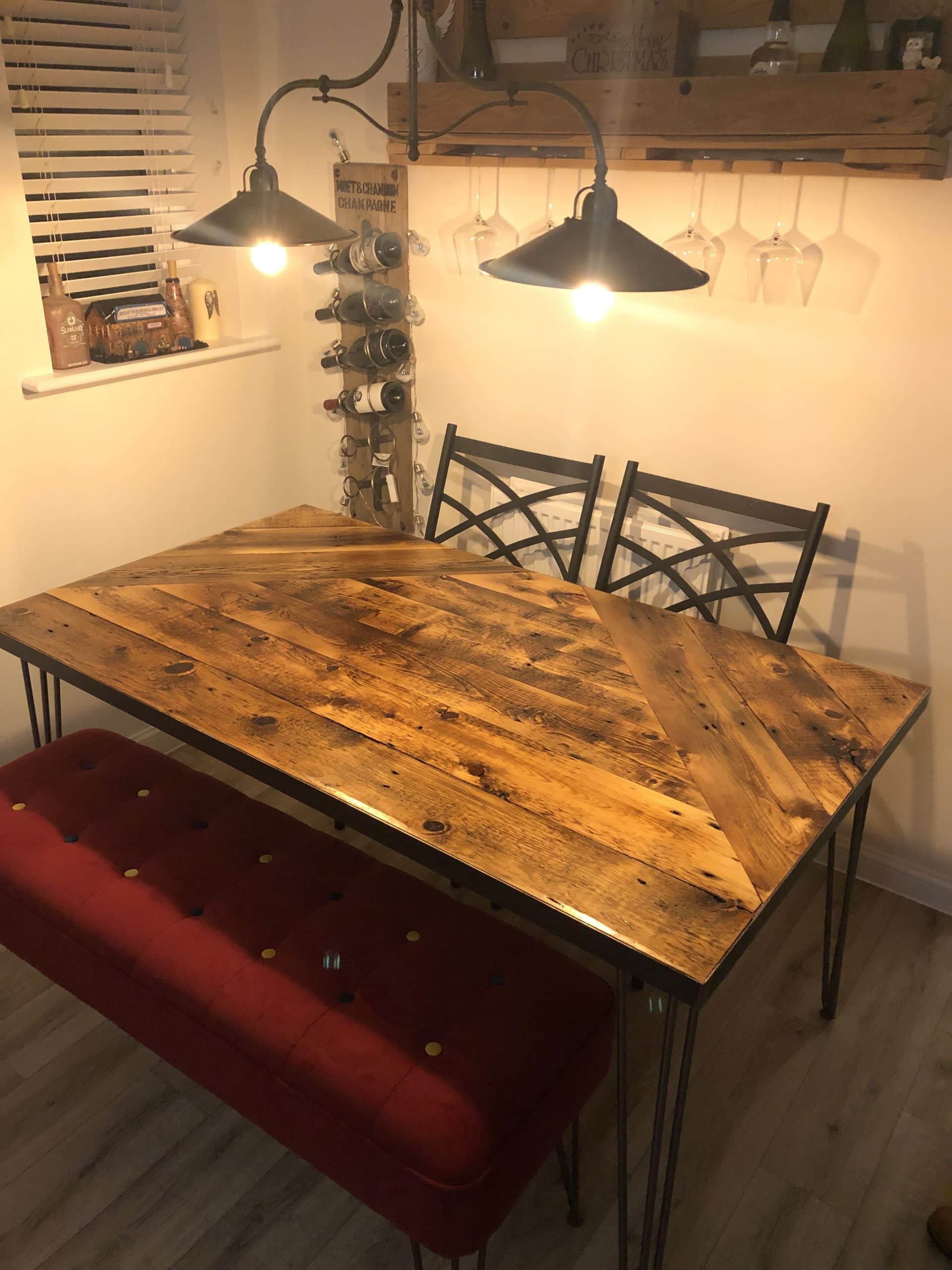 Last week we gave you our top five tips on what you need to think about before you buy a new dining table. This week we are sharing a clients story and our customer journey with you. Clients often ask us how does it work having a piece designed and custom made for them; from how do you get started, how long does it take to do or how much does it cost?  Each one of these is a good question to ask. Read the rest of the blog to find out how we helped Charlie and Rob with their industrial designed reclaimed wood table, bench and chairs. Hopefully, it should answer a few of the questions you may have if you were considering having a piece of industrial furniture designed and hand made.
1.First meeting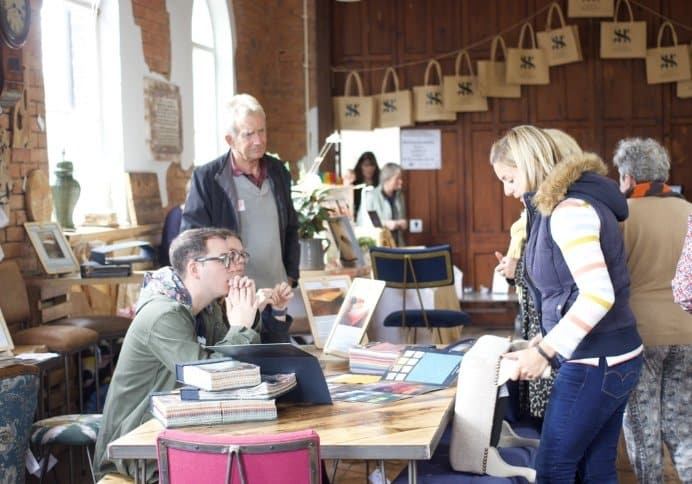 Charlie had been following us on Facebook and loved our style. They had seen our Autumn Event advertised and decided to pop along as they were looking for some furniture inspiration for their new home.  They had seen one of the reclaimed wood tables on display and they wanted to chat about their ideas. Some clients' first initial connection is through events, the website, social media posts or other forms. As a result, we have an initial chat with you and then book a consultation to provide you with a quote.
2.Consultation and Design
Charlie and Rob loved the design of a reclaimed wood table that was on display but it was too big for them and they wanted a different design on the top. They also loved the design of the bench but wanted different coloured fabrics and a different size. First of all, we spend time with all clients asking questions through the process so we understand exactly what you are looking for. This includes size, design, wood finish, style, whose going to be using it and the size of the room the furniture will be going in.
For anything with fabric, we similarly discuss function, use, texture and colour, so we give you something that is both stylish and practical. Along with the table and bench for Charlie and Rob, we also restored two existing dining chairs to complete the look. Once we understand the full detail of the design we provide a written quotation and the estimated time of completion. Although each quote is unique to each client, most projects take approximately 10-12 weeks.
Due to the current situation with Covid-19 we aren't able to do this for the time being. However, we are still able to offer this service but via video conference or phone. We are sending clients samples through the post so they can see and make decisions in the same way. We would always recommend you see a physical sample in your own home as the light can have a big impact on how the finished piece looks.
Following acceptance of the quote, a 50% deposit is taken and as a result, the estimated work schedule provided.
3. The build begins
Each piece of our furniture is handmade and designed from our converted chapel workshop by Dad & I. This is where the fun begins and your furniture starts to come to life. We order materials for the specific commission. We order any bespoke steel frame for tables and seating from Aclumlow Hall Forge. Dad starts work on the table and chair/bench frame, and the upholstery work follows.
We keep in close contact with clients giving you updates whilst the furniture is being built, and updates on completion. In Charlie and Rob's case, they didn't have a confirmed moving in date when we first started the commission, so we kept in close contact throughout. On request, we can send you pictures and videos of new developments.
4. Sit back and enjoy.
Before Charlie and Rob knew it, they moved into their new home as a result, their furniture soon followed. So, they were in just in time for Christmas; and they hosted their first Christmas dinner on their new reclaimed wood table, bench and chairs.  They left us a lovely review.
"So glad we visited an event that Emma was hosting. Immediately fell in love with all of the pieces and we are so happy to have our own set commissioned and made for us. Brilliant service from start to finish. Would highly recommend for pieces that add that wow factor and excellent service…We love it and will certainly be back again"
Charlie and Rob
We hope this helped answer any questions you may have around the process of how we design our custom made furniture.  If you need any help turning your furniture dreams and ideas into a reality we can help you.
We design and handmade beautiful, original reclaimed wood dining tables and seating for our clients; each has its own story and character which are made to fit their room and space.
You can reach us on 01260 609021 or drop us a message on hello@shupholstery.co.uk we can chat about your ideas or browse the website for inspiration.
https://shupholstery.co.uk/wp-content/uploads/2020/04/IMG_5132-scaled.jpeg
2560
1920
Emma Semper Hopkins
https://shupholstery.co.uk/wp-content/uploads/2018/02/semper-hopkins-logo.png
Emma Semper Hopkins
2020-04-28 13:54:14
2021-07-26 15:00:04
A client's journey…how to get your very own custom made furniture