Creating something new from old – Dining Chairs Makeover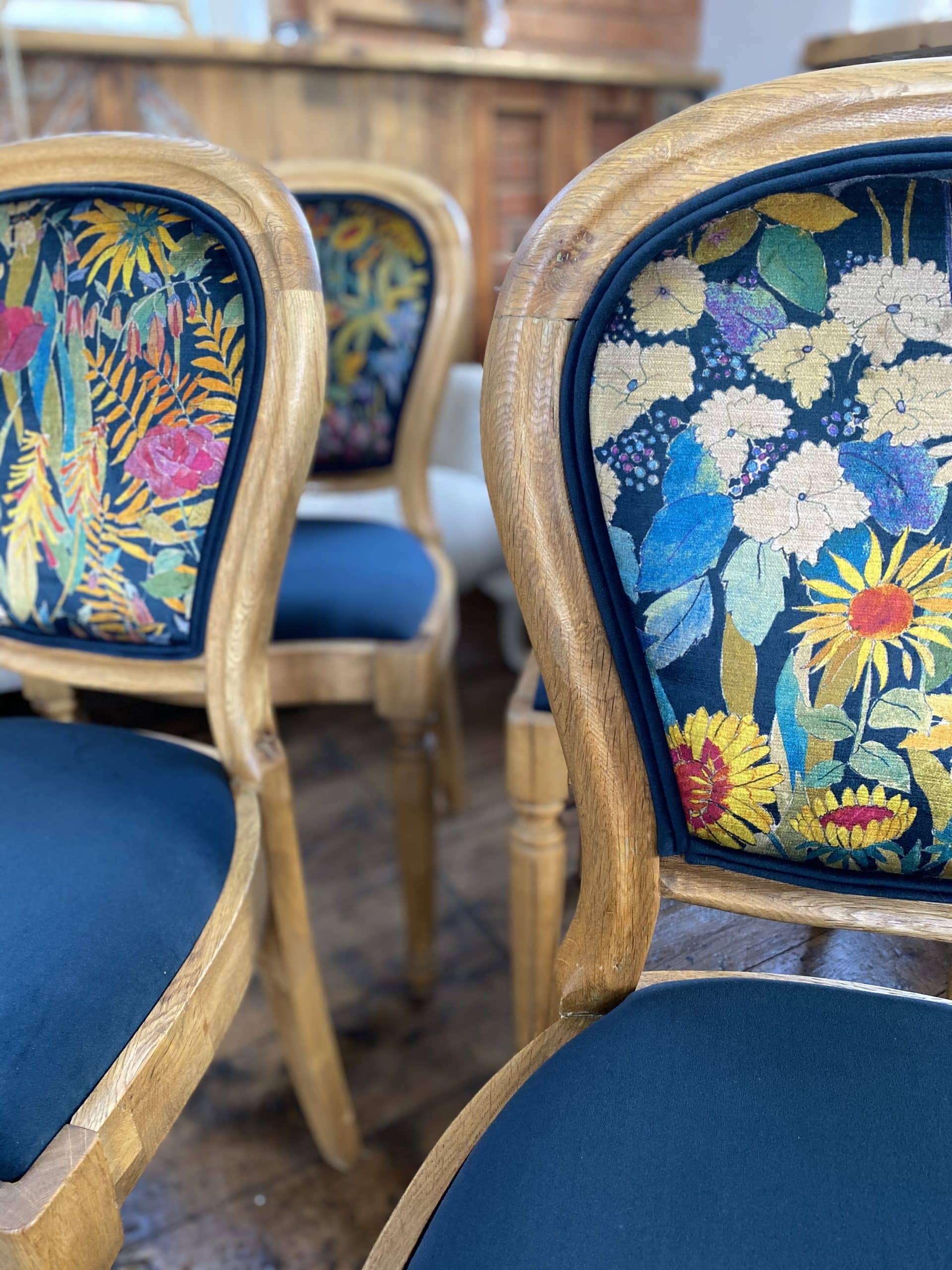 In today's world, it is all too easy to go out and buy a set of dining chairs if your current one is broken or damaged, or is no longer fashionable.
Are you thinking about replacing your existing dining chairs with something new because the fabric is dated or worn out?
Do you love the style of your existing dining chair, but the legs wobble, they are uncomfortable or, do they need a bit of TLC?
It might be easier to take it to the tip or sell the old one on, but have you considered what you could do with your existing dining chairs with a little bit of imagination and creativity?
The benefits of doing this are:
You will get to design something completely personal and unique to you that no one else has.
It will match your existing furniture so you don't have to replace the whole dining room suite.
It will give your dining room a completely new look
You are helping the environment by not sending your existing ones to landfill sites.
Here are some examples of what could be done with your dining room chairs:
Change design characteristics of the chair: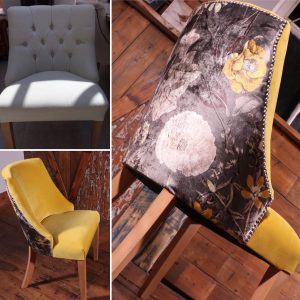 When you have your chair reupholstered, there is no need to keep the design the same. You can change the characteristics of the chair, so it makes it look completely different. For example, the client's chair pictured was upholstered in a very plain white linen fabric with button detailing. The chair was redesigned, with the buttons removed and then reupholstered in a completely different style and type of fabric. Our client chose a stunning combination of bright yellow velvet from Linwood Fabric and a statement floral print from Clarke and Clarke for the back of the chair. They got to design something completely personal that no one else has.
Be bold and add colour:
Adding coloured fabric to your dining chairs can make a positive dramatic impact on a room scheme. The example pictures show how six leather dining chairs needed repairing as the seats and back had started to sag due to usage. The client didn't want to have to replace the whole suite as it was only the chairs that needed repairing. They were bold with colour and chose three different coloured velvets from Warwick Fabric. They loved the finished look especially when they could change the seating arrangement and get a completely different look.
Be bold with patterned fabric: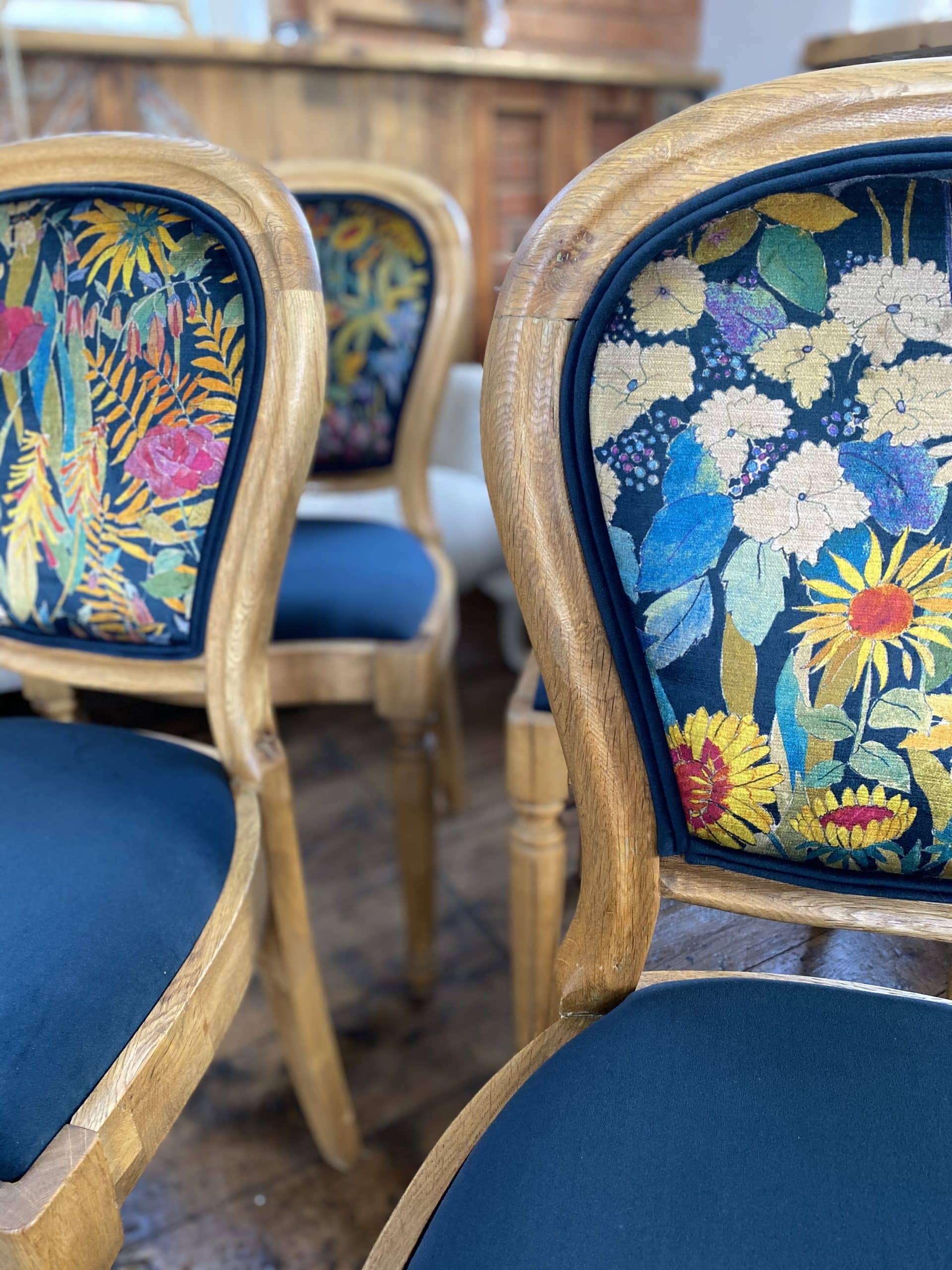 Be brave and bold by choosing a statement patterned fabric to add a difference to your dining chairs. The chair featured shows how you can mix pattern and plain.
We upholstered the seatbacks in a striking printed Liberty velvet. Each one looked like a picture, and was framed beautifully with the dark navy double piping. The chair seats got upholstered in Warwick Plush Velvet. The seats were upholstered in this fabric for two reasons; Plush Velvet is so soft, yet hard-wearing—the Rub Test of over 100,000 means it exceeds UK requirements for both domestic and contract upholstery. Plush Velvet is a super EasyClean quality that helps to repel liquids – there really is no reason not to love this fabric! The wooden chair frames also had some attention. They were all glued as the joints had become weak. They were all cleaned, waxed, and polished to complete the transformation.
We hope these examples will give you inspiration on how your dining chairs could be transformed into something new.
If you would like to transform your dining chairs we will help you:
Choose a fabric you will adore as well as considering all of the practical elements, which you may not have thought of.
Add design details and flourishes that will give your piece a new, unique character.
Adjust any aspects that need improvement. Does the woodwork need a makeover? No problem, we'll sand and polish it. Is the seat too hard? Don't worry, we can replace it.
The end result is a completely personal and unique piece that you'll love. Get in touch to start your project call on 01260609021 or email hello@shupholstery.co.uk
https://shupholstery.co.uk/wp-content/uploads/2021/02/bold-fabric-scaled.jpg
2560
1920
Emma Semper Hopkins
https://shupholstery.co.uk/wp-content/uploads/2018/02/semper-hopkins-logo.png
Emma Semper Hopkins
2021-02-17 18:00:56
2021-06-15 12:40:10
Creating something new from old – Dining Chairs Makeover