Are you thinking of starting Upholstery as a hobby. What tools do you need to get you started?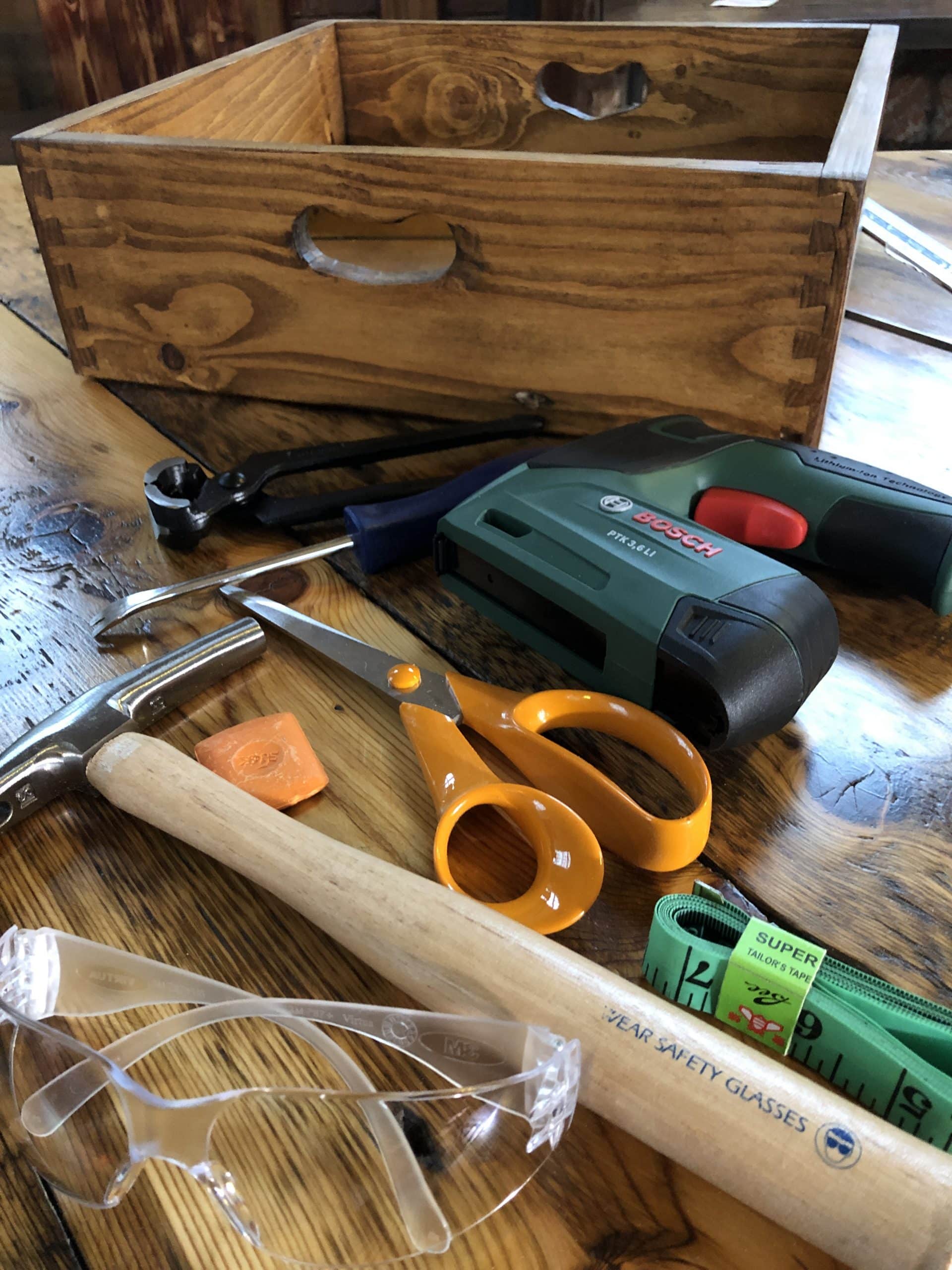 The truth is, I started on my upholstery training years ago because it was a release from my stressful job. It gave me a purpose to learn from others and up my skillset while taking my mind off the challenging day job.
I'm not a person to go to a spa day to relax. I like to relax when doing something like pottering in the garden, baking, or making something for my home.
Due to the current COVID-19 pandemic and lockdown, we are spending more and more time at home. It can be all too easy to get sucked into a cycle of waking up, working from home (or going to work), homeschooling (if you are affected) running errands, maybe doing some more work, and falling into bed before setting an alarm to get up and do it all over again. Having a hobby outside of everyday life isn't just a nice break for your body and brain – it carries mental and physical health benefits too.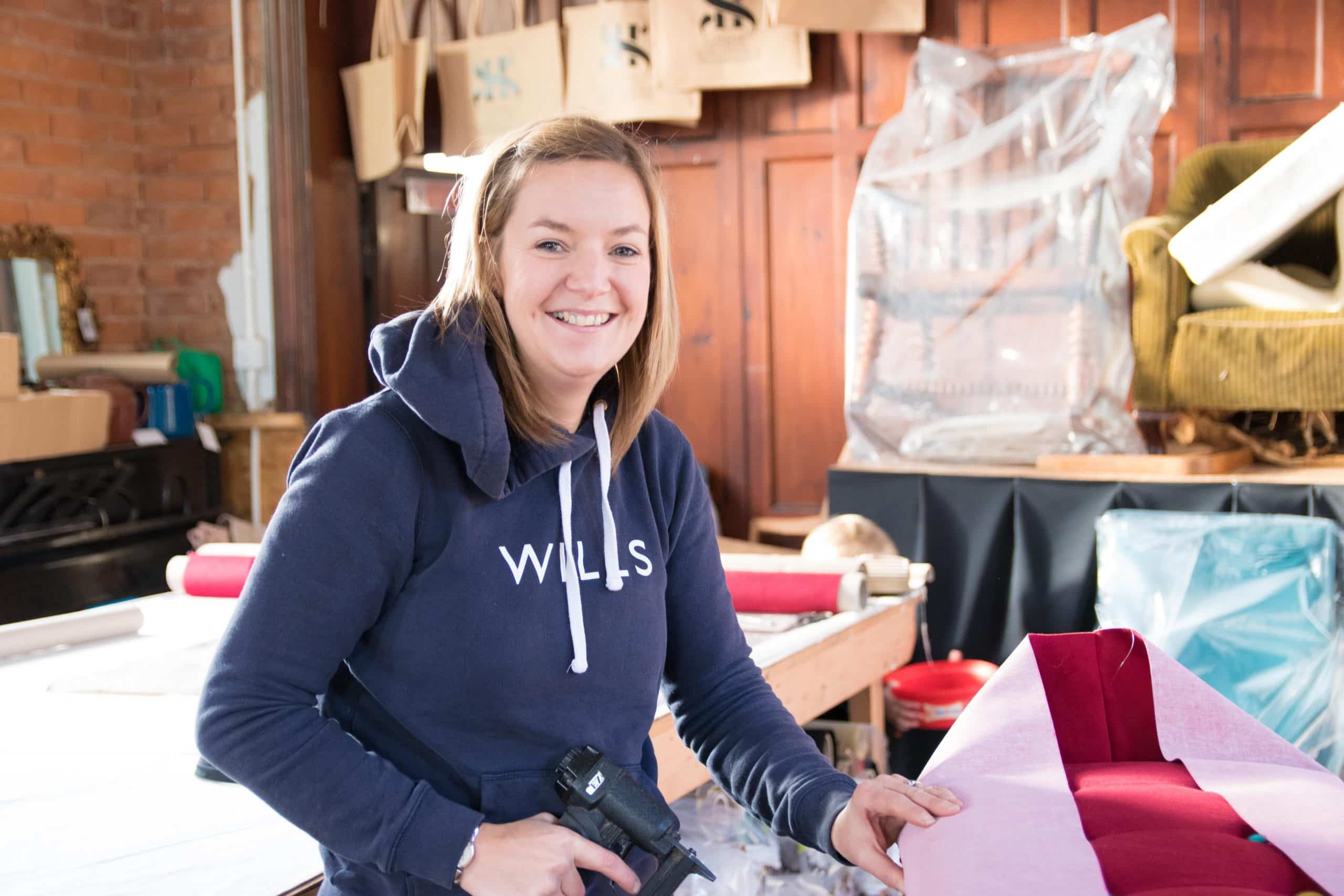 Have you been looking for a new hobby? Have you ever considered trying Upholstery? I personally loved learning it for a number of reasons. The first being that I got to enjoy learning a new skill which gave you a huge sense of fulfilment. I had an instant buzz from creating beautiful furniture, seeing the tangible results of my hard work rather than in the day job I would just see another presentation ticked off the list. I also loved learning about fabrics, design, and the various elements that came with them. There are lots of creative and practical elements you can immerse yourself in depending on what personally interests you.
With the platform and the skills, I've gained over the past few years, I have wanted to embark on a new venture of upholstery workshops to help more people find an escape that will bring them as much joy as it did to me. So if you are considering taking upholstery up as a hobby at home we thought it would be useful to share a list of basic tools you need to get you started. These can be purchased at relatively low cost online shops like amazon, eBay or upholstery suppliers.
We hope you found the hints and tips, and the list of tools from this blog useful to get you started in your new hobby.
Are you also worried about what if it's not quite right for me? I would have committed to buying all of those tools before I've experienced it.
We could help you with this. Before committing to buying your own tools why don't you come and try it out for yourself at our upholstery workshops. The benefits are all the tools and materials are provided for you to make a piece of furniture in a safe environment. You will be provided with full training by Emma an experienced upholsterer, who started it out as a hobby. So you get an opportunity to ask all the questions you like from someone who has shared a similar experience.
You will be amazed at the results that you can achieve. Pauline created a new footstool for her conservatory. She had been wanting to learn a new skill and she had no previous experience of upholstery. She challenged herself to choose a patterned fabric to upholster her footstool in. The end result was brilliant and she shared some kind words about her experience. "I loved being able to create something bespoke and useful. It was lovely to share the experience with Emma, Ian, and the other attendees".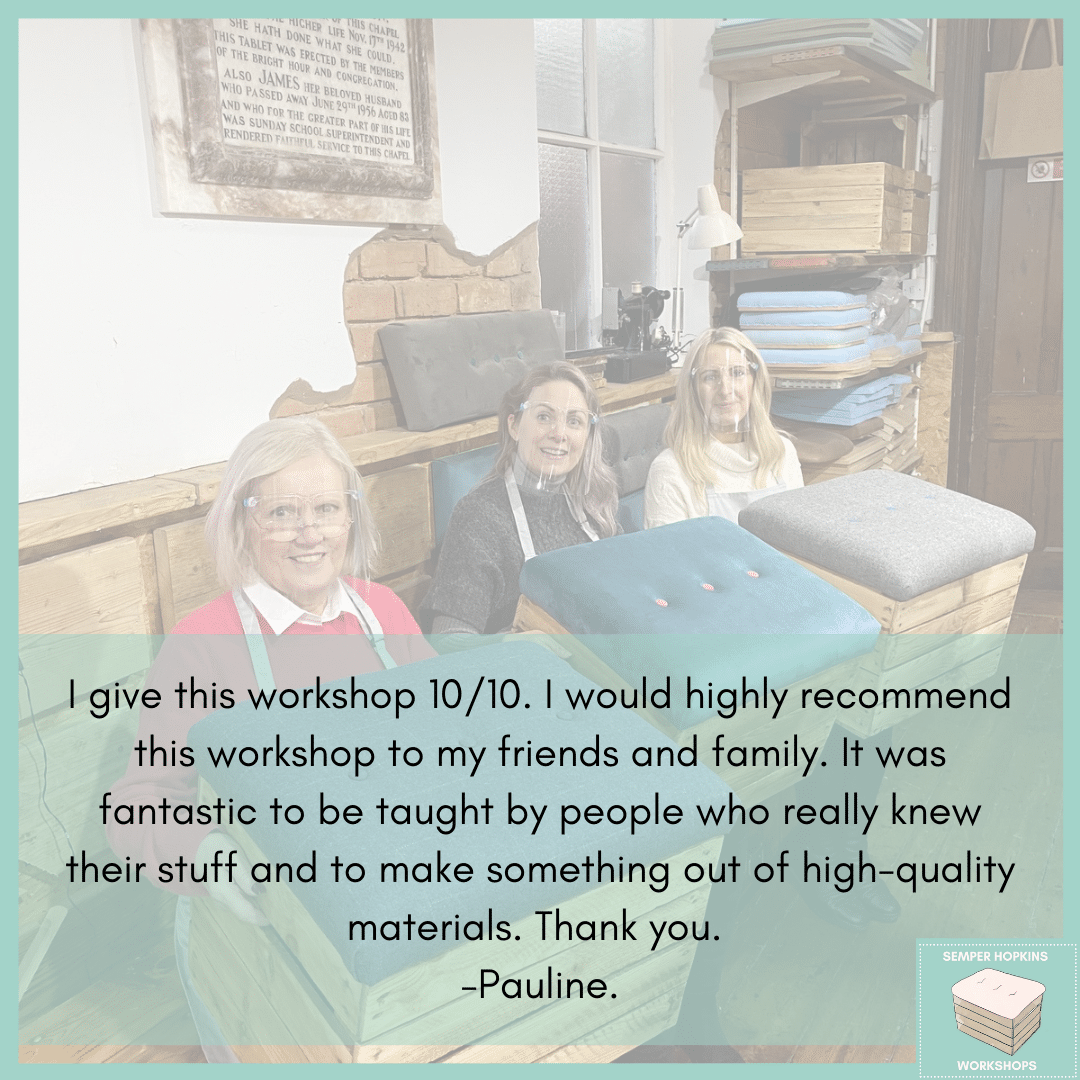 This is an opportunity to make an item of furniture to treasure forever, and a reminder of the fun that we can have when we tap into our creative side. This is playing in style for creative grown- ups eager to have a fun escape from the pressures of everyday life.
You can book your space here.
https://shupholstery.co.uk/wp-content/uploads/2020/11/IMG_9369-1-scaled.jpg
2560
1920
Emma Semper Hopkins
https://shupholstery.co.uk/wp-content/uploads/2018/02/semper-hopkins-logo.png
Emma Semper Hopkins
2021-02-01 15:24:52
2021-09-02 11:23:20
Are you thinking of starting Upholstery as a hobby. What tools do you need to get you started?