How did Semper Hopkins begin?
Many years ago, I started learning upholstery so I could create furniture for my own home. In 2013 we carried out a huge renovation on our home, which had gone massively over budget and we had run out of money to buy the furniture we wanted. I wasn't willing to wait and save up, so I found another way. 
I enrolled in a night class and started to learn upholstery. Not doing things by halves, the first thing I tackled whilst training was a wingback chair. Looking back now I wouldn't recommend this for anyone just starting out. I'd suggest starting on a simpler project and building up your skills and confidence. After the first project I got hooked on upholstery. I later went on to sign up for a business course in upholstery as it was the most cost effective way for me to carry on learning and creating. I fit the training in around a busy full time job and it took me a couple of years to complete. At the time I wasn't looking for a new career, I just love to learn.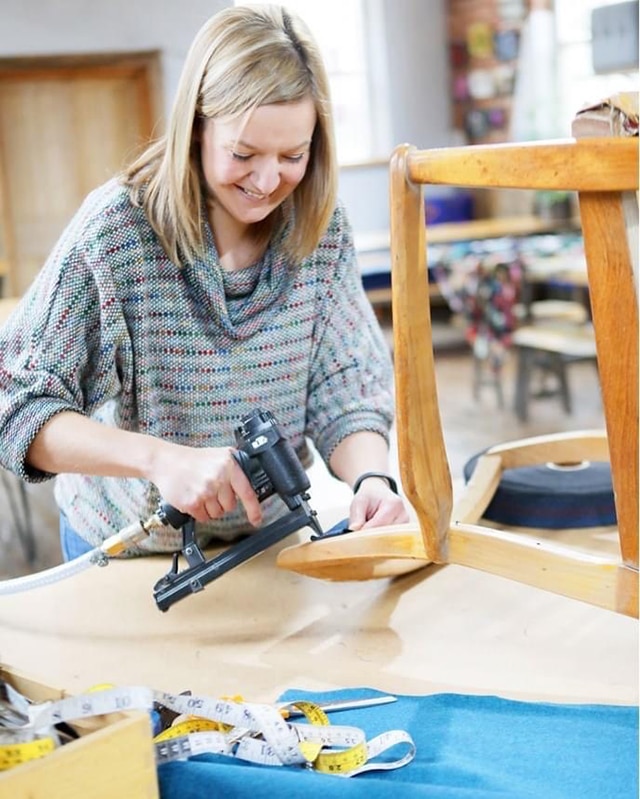 I soon found my new hobby didn't just have the benefit of producing beautiful furniture. I found the craft of upholstery was also a great tool for turning off my busy mind! I created a work studio at home in the front room, a place I could leave projects out and pop in for an hour when I felt like it. Read the full blog 'my top three favourite things about upholstery".
In 2016 I turned my hobby into a part time business whilst on maternity leave from my job in the corporate world. We were soon running out of space, as you can imagine one room soon got chaotic amongst the materials, tools and projects. I'd started to think about a bigger workshop, possibly a space in the garden, but then at the right time fate showed its face. The gorgeous Old Kent Methodist Chapel had come up for auction, it's located right next to our home. We won the auction for what is now our wonderful workshop.
With the help and support of all my family, we started the process of obtaining planning permission to transform the chapel into a workshop studio for Semper Hopkins Upholstery and Interiors. Once planning permission was successfully granted, the renovation of our future business premises began with my long suffering dad being in charge of sympathetically restoring the chapel, in which he has spent many a painstaking hour, in preparation for opening The transformation of the premises is testament to his hard work and dedication to the business and of course his enduring love for me.
Dad hasn't just helped with the transformation of the workshop though; he is the other half of the team and his useful carpentry skills come in handy to create and restore stunning pieces of furniture.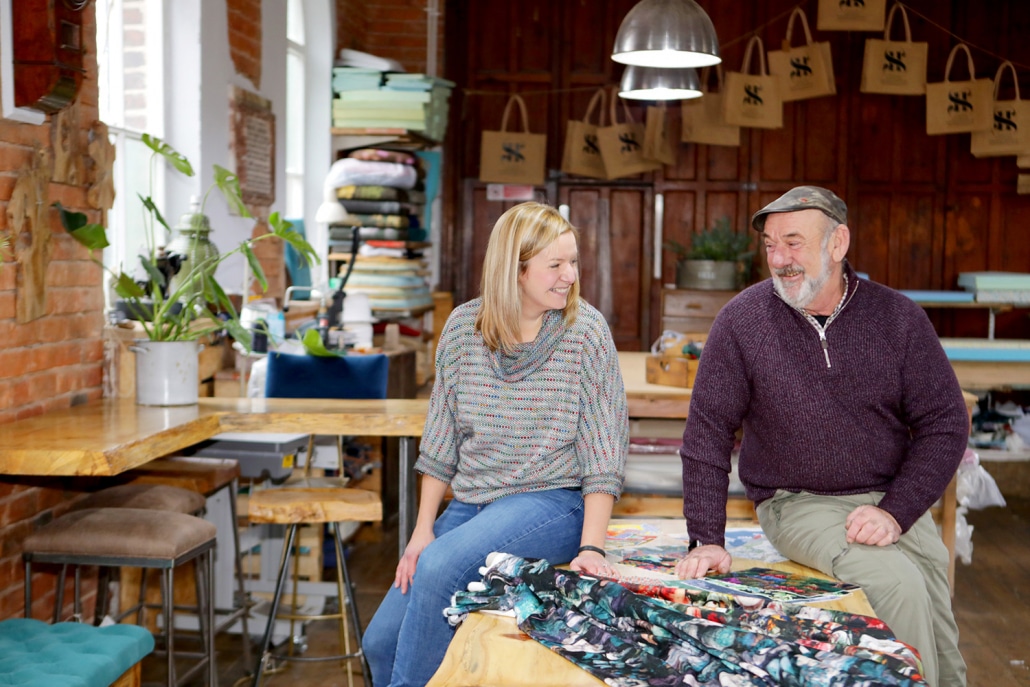 How have we changed over the years?
Since first starting, we have changed and adapted our business. At first, we started out making soft furnishings and creating new pieces out of reclaimed materials, and then introduced custom made furniture as one of our services. But as the business grew, we started thinking, wouldn't it be great if we could teach people what we knew? Similar to how I learnt initially
So, in 2020, we introduced our first Upholstery Workshop… ourselves and the clients loved it… so we decided to do more! Since then, we have introduced new upholstery workshops where clients can choose from a range of furniture and learn different skills. Including notice boards, footstools, storage crates, benches and stools. We are working on new designs for 2023.
In 2022 we've invested and adapted the workshop further so we are hosting corporate team building days and group upholstery workshops for between 6-12 people. Having had fifteen years experience in a corporate background I know how important employees are to a business. They need to be rewarded, inspired and motivated. Creative activities like upholstery enable this, a break away from a stressful day job gives you the opportunity to get your creative juices flowing. Learning a new skill that offers a mindfulness element can have a profound impact in your work and personal life. Leaving you feeling re-energised, fulfilled and with a massive sense of achievement.
We teach upholstery in person, online and at group events. We are empowering YOU with the skills so you can make unique, sustainable and beautiful pieces of furniture.
If you would like to find out more about us and our journey, visit our Blogs page, where you can read various articles on what we have been up to recently!
https://shupholstery.co.uk/wp-content/uploads/2022/02/Our-story-Outside-chapel-1.jpg
891
1280
Amy Edwards
https://shupholstery.co.uk/wp-content/uploads/2018/02/semper-hopkins-logo.png
Amy Edwards
2022-02-18 21:54:24
2022-12-07 17:35:05
Our Story