Choosing the right bar stool for you home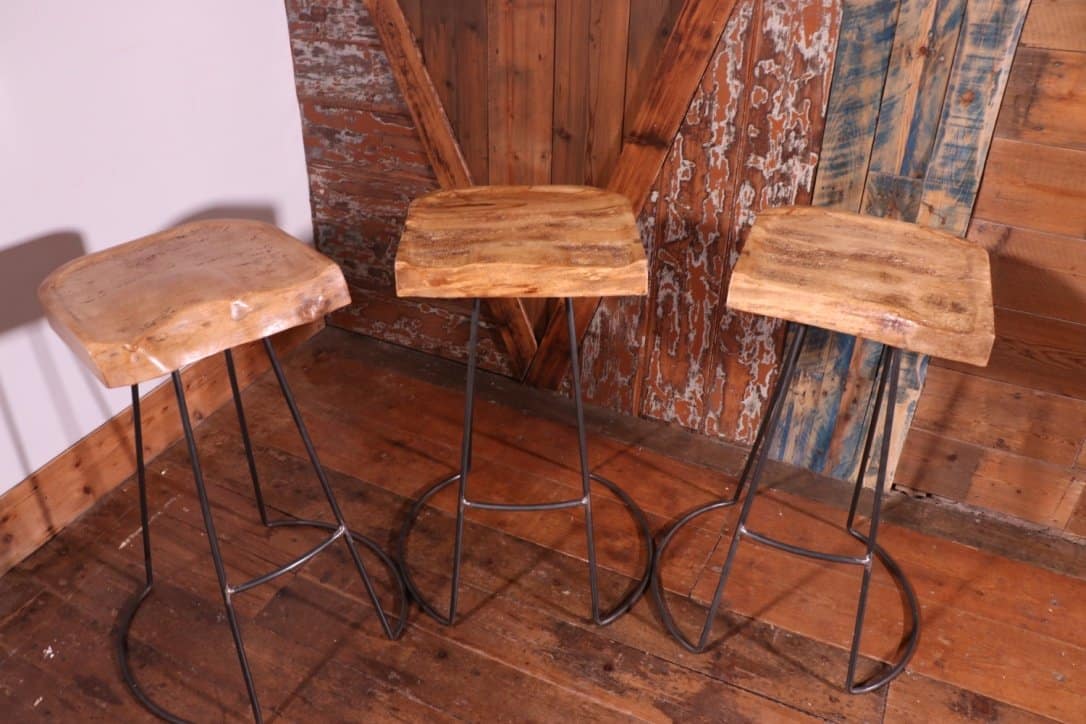 The kitchen is no longer a room we use just for preparing food for many its also used for socialising with our friends and family. Many of our homes today are open plan kitchen and dining spaces with a feature island. We personally designed our kitchen to be open plan and have an island at the centre of it. We spend hours as a family sat around it enjoying meals, playing games, colouring, baking, preparing meals and socialising to name a few of the activities. It is the hub of our kitchen and a big feature of it is the bar stool seating placed around it. A bar stool is no longer just a seat you'll find tucked around the bar at your local pub! It is now a staple seating area of choice in many kitchens and dining room interiors and its a great place to sit and socialise at.
That is why today we wanted to share with you our top tips on how to choose the right bar stool for your home. It's not just about the aesthetics, it's also thinking about the size and shape, the materials it is made out of, comfort and practicality. Here are three main questions you need to ask yourself before you buy:
1. What's the Right Size Bar Stool for My Kitchen?
The first thing to consider is size. For example, you could find the comfiest bar stool but if it doesn't fit, then it's no use at all. So when it comes to a bar stool size these are main key measurements to consider:
Height (the overall height of the barstool)
Width (from side to side)
Depth (the back to the front)
Seat height (from the floor to the top of the seat)
Back height (so the height of the backrest)
Footprint (how much room the base of the stool occupies)
TOP TIP: As a general rule, it's best to allow about 15 cm between bar stools for a comfortable seating arrangement. If the stools swivel, you'll need a little more space for the seat to rotate. Using key measurements will help you work out which bar stools will fit around your kitchen island.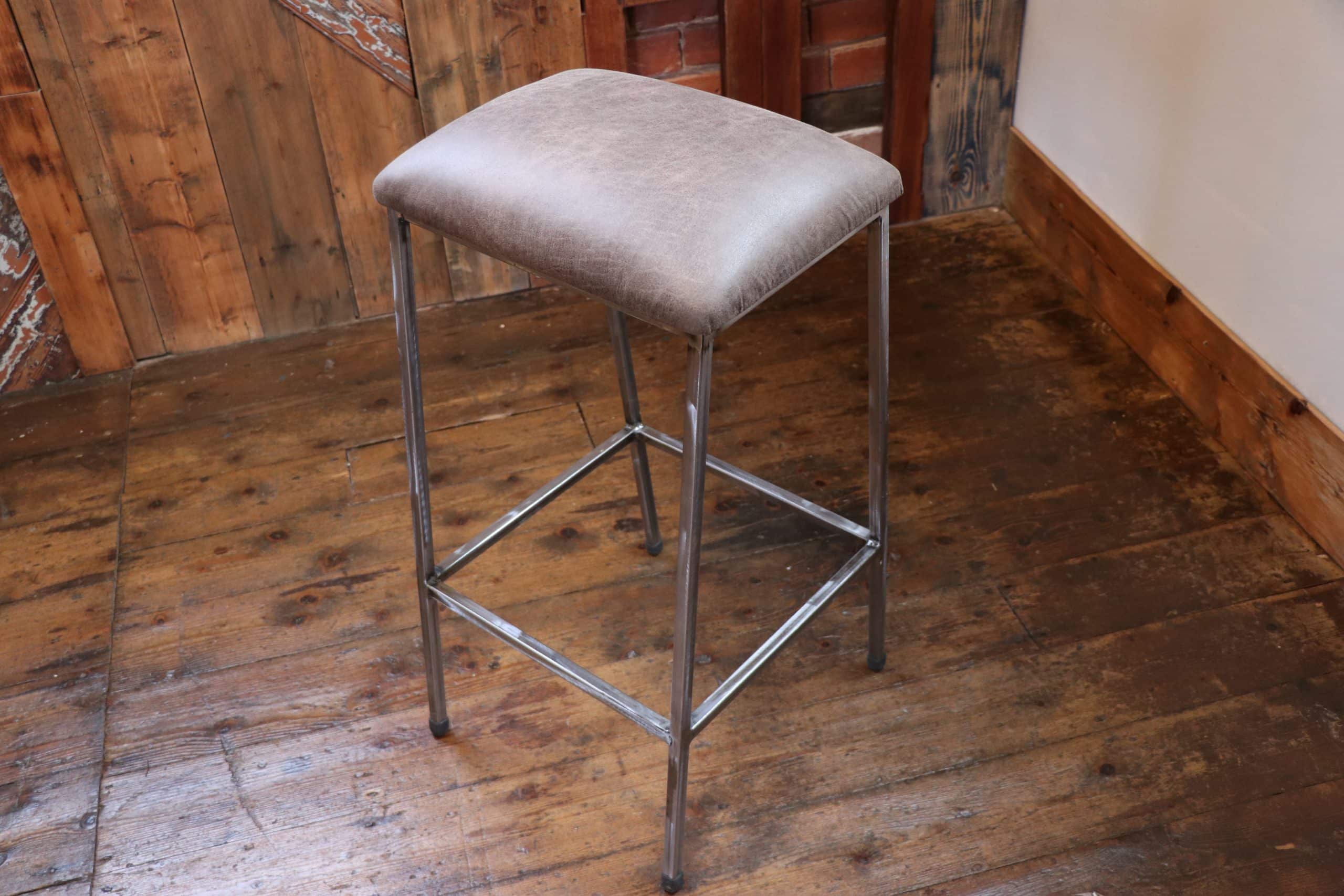 2. What Features do I Want a Bar Stool To Have?
With so many different shapes and styles of bar stool available, you really will be spoilt for choice! To make your selection a bit easier, we've done a summary of some of the bar stool features available:
Back and Backless
A backless bar stool can neatly be tucked under your counter or breakfast bar making it a great space saver. A backless seat will also have less of a visual impact in your room. Because of this, we recommend backless bar stools when you want to save space and want to keep your kitchen without any main changes in aesthetic.
If you're after more support, a bar stool with a backrest is ideal for lumbar support and added comfort. This will also add a change to your setting. Especially if you want a bigger change in your kitchen and you want the new barstools to be noticed!
Footrest
First of all, a bar stool with a footrest will offer that extra bit of help getting onto the stool and will also provide a place to comfortably rest your feet when seated. Because there are loads of different styles available so it's best to think about what will work within your interior. Footrests will also make the bar stools more comfortable for long time seating. If you are planning to use these bar stools for a workspace, then having a footrest on your barstool might be a good idea!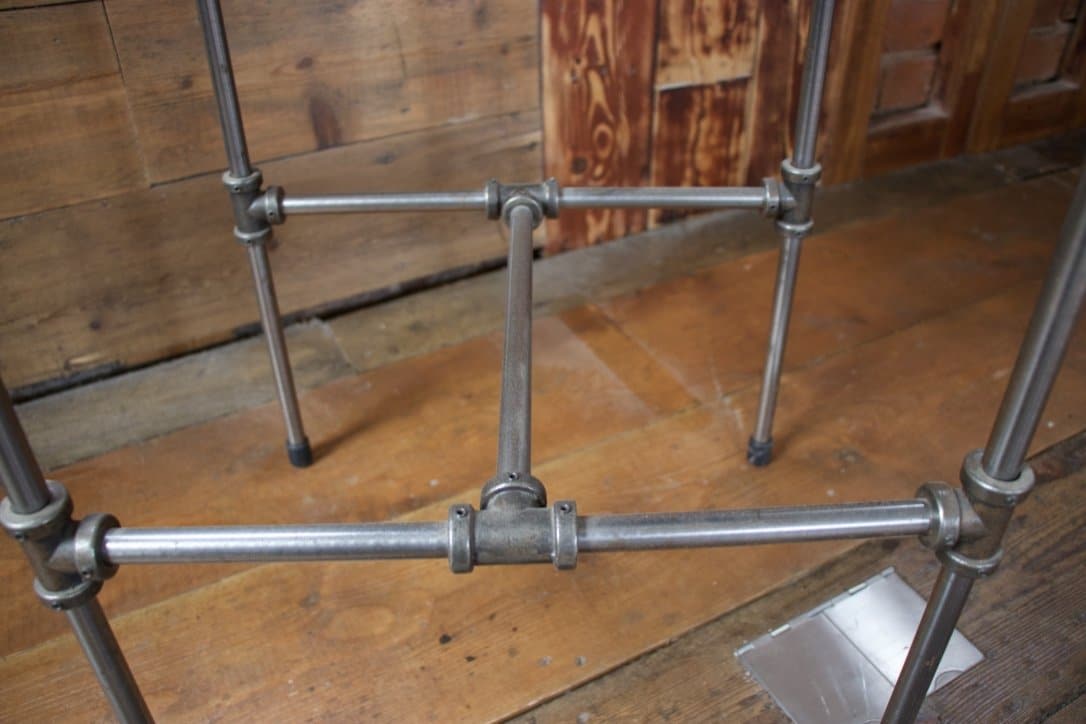 3. What Material Bar Stool Seat Should I Choose?
There are different materials available for your seating ranging from wood, plastic, leather and different fabrics. For instance, consider who will be using your stools e.g. adults or young children and how often they will be used e.g. everyday or just for socialising. These questions will help you to choose the right materials for your bar stools. Our range of bar stools seats are made in a variety of fabric, leather and wood. Thus, we offer a range of choices to clients so they can mix and match depending on their personal style and usage. We offer advice at the design stage so they get the right choice for their needs.
If you are in the process of looking for new bar stools for your home we hope these questions and tips will give you a guide on how to choose the right one.
If you need help designing your perfect bar stool for your home we are here to offer advice.  We design and make a range of industrial design bar stools. You can choose from a variety of options and select from a range of wood or fabrics finishes. You are also in control of the fabric and can tailor-make your design to suit your style. Browse the website here for the full range, alternatively get in touch via email or call 01260609021. We would love to help you find the perfect bar stool for your home 
https://shupholstery.co.uk/wp-content/uploads/2020/05/Industrial-Designed-Barstool-With-Oak-Seat-x3.jpg
724
1086
Emma Semper Hopkins
https://shupholstery.co.uk/wp-content/uploads/2018/02/semper-hopkins-logo.png
Emma Semper Hopkins
2020-05-05 12:21:49
2021-06-15 13:18:59
Choosing the right bar stool for you home