Dining Chair Reupholstery – Making New From Old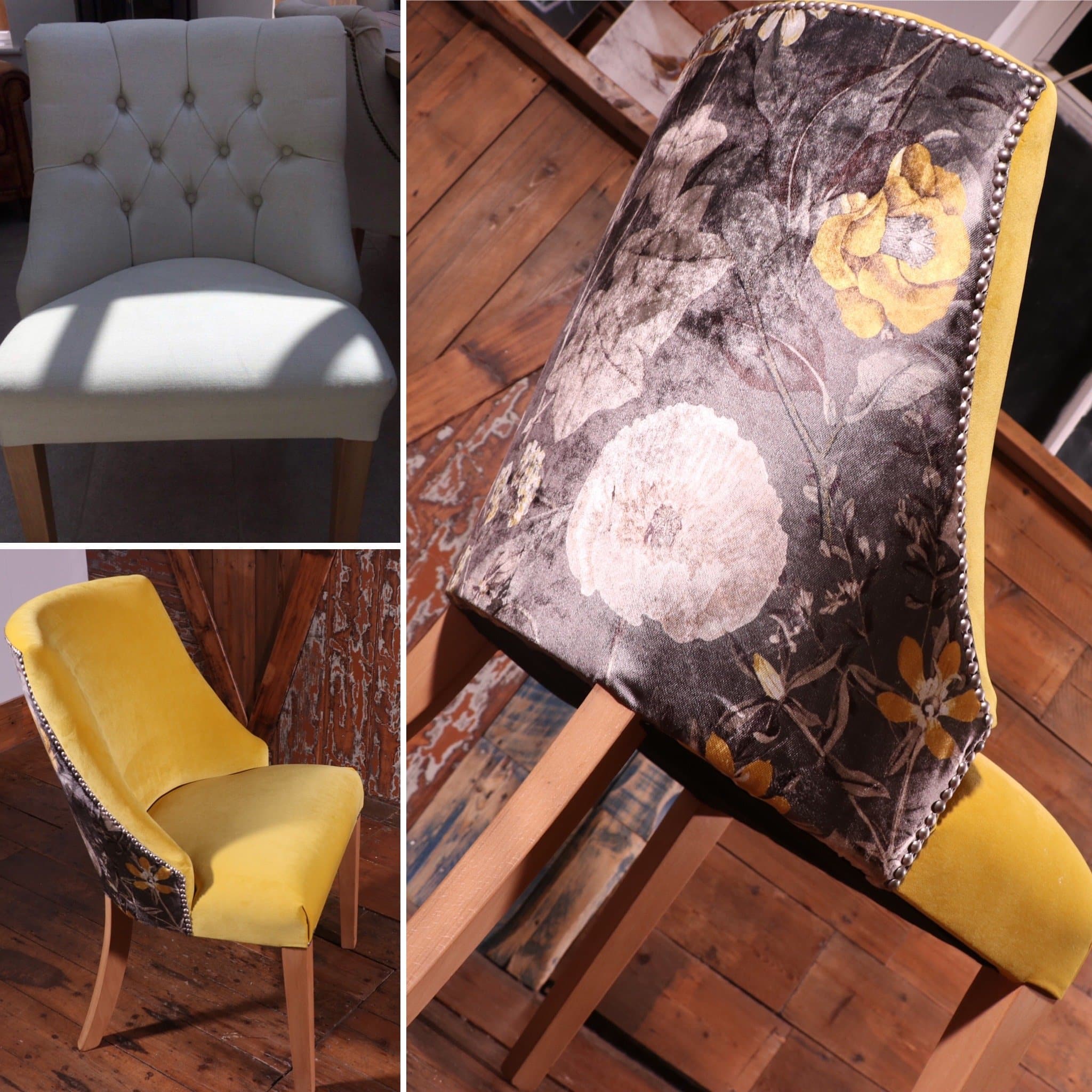 When considering a dining room make over, it is so important that you take into consideration working with what you have already got. If your dining chairs look a bit worn in or simply don't match a colour scheme anymore- there are ways to fix this. Instead of going out and buying a whole new dining set you can really get creative with fabrics to revamp your dining chairs and give them a lease of life. We work with clients to choose the right fabrics and design characteristic to transform their chairs. The work is completed by Dad and I from our workshop based in in Scholar Green, Cheshire.
Do you have dining chairs of sentimental value that you don't want to part with but don't quite fit the aesthetic of your home? One of the best things about reupholstery is that you can put your own twist on your furniture without completely taking away the original style.
The Benefits of Reupholstered Dining Chairs:
You will get to design something totally personal and unique to you that no one else has.
It will match your existing furniture, so you don't have to replace the whole dining room suite.
It will give your dining room a completely new look
You are helping the environment by not sending your existing ones to landfill.
Client Transformations
One of our favourite dining chair make overs is this beautiful set. Our client wanted to give their six dining chairs a new purpose and a freshen up from their old design. They have been stripped back to the wooden frames, frames repaired, waxed and polished. The chairs were then rebuilt with new upholstery materials, and upholstered in a stunning combination of Velvet from Liberty Fabric. They look stunning and are a completely unique dining set which can not be found anywhere on the market which makes it even more special for the client.
Using Colour to Brighten Up Your Dining Room.
Our client wanted to add a bit of colour and interest to their existing dining chairs which were previously leather. The client chose three stunning colours Rose, Silver and Petrol velvet from Linwood Fabric. It added a a pop of colour to their lovely grey dining room scheme. The beauty of adding three colours is they can change the placement of the chairs around the room and it creates a new look. They were absolutely thrilled with the finish and left us a five star review.
"Would highly recommend Emma & her Dad. We were extremely pleased with all the advice given & the quality of the craftsmanship. Totally transformed 6 tired dining chairs & changed the look of our dining room. Thanks to both."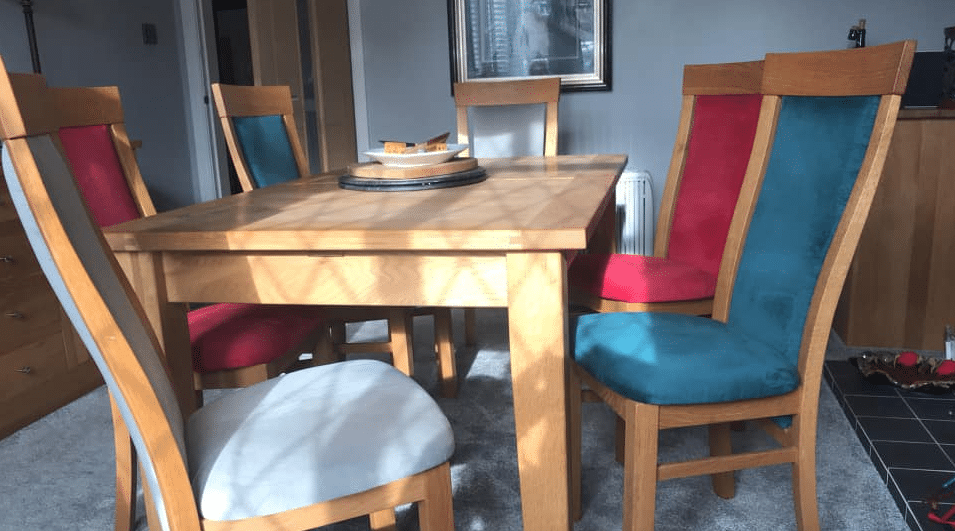 Renewing Old Dining Sets
We've given this set of tired, old dining chairs a complete new lease of life making old from new. The client had been looking to buy new but couldn't find anything as comfy or to match their original dining table. We changed designs of the chair to modernise them; removing the wooden finials from the chair backs, the tassels and studs were removed, the outside of the backs were filled in and piping detail was added. The chairs were completely stripped back and rebuilt to be like new. The seat back has been finished in a beautiful fabric embroided with Finch birds. The chair seats have been upholstered in a stylish Linen by Linwood Fabric.
The client was absolutely thrilled with the transformation and left us a five star review "I am delighted with the dining room chairs that Emma has reupholstered for me. The fabric and standard of workmanship are both excellent. Thank you."
Are you looking to give your dining chairs a new lease of life with an upholstery transformation??
We can help you:
choose a fabric you will adore, as well as considering all the practical things that you might not have thought of.
add design details and flourishes that will give your piece a new, unique character.
adjust any aspects that need improvement. Does the woodwork need a makeover? No problem, we'll sand and polish it. Is the seat too hard? Don't worry, we can replace it.
The end result is a completely unique piece that you'll love which no one else will have! Get in touch to start your project call on 01260609021 or email hello@shupholstery.co.uk
https://shupholstery.co.uk/wp-content/uploads/2021/02/mailchimp-chair.jpg
2048
2048
Emma Semper Hopkins
https://shupholstery.co.uk/wp-content/uploads/2018/02/semper-hopkins-logo.png
Emma Semper Hopkins
2021-05-05 14:48:44
2021-06-15 12:13:55
Dining Chair Reupholstery – Making New From Old