Choosing Sustainable Fabrics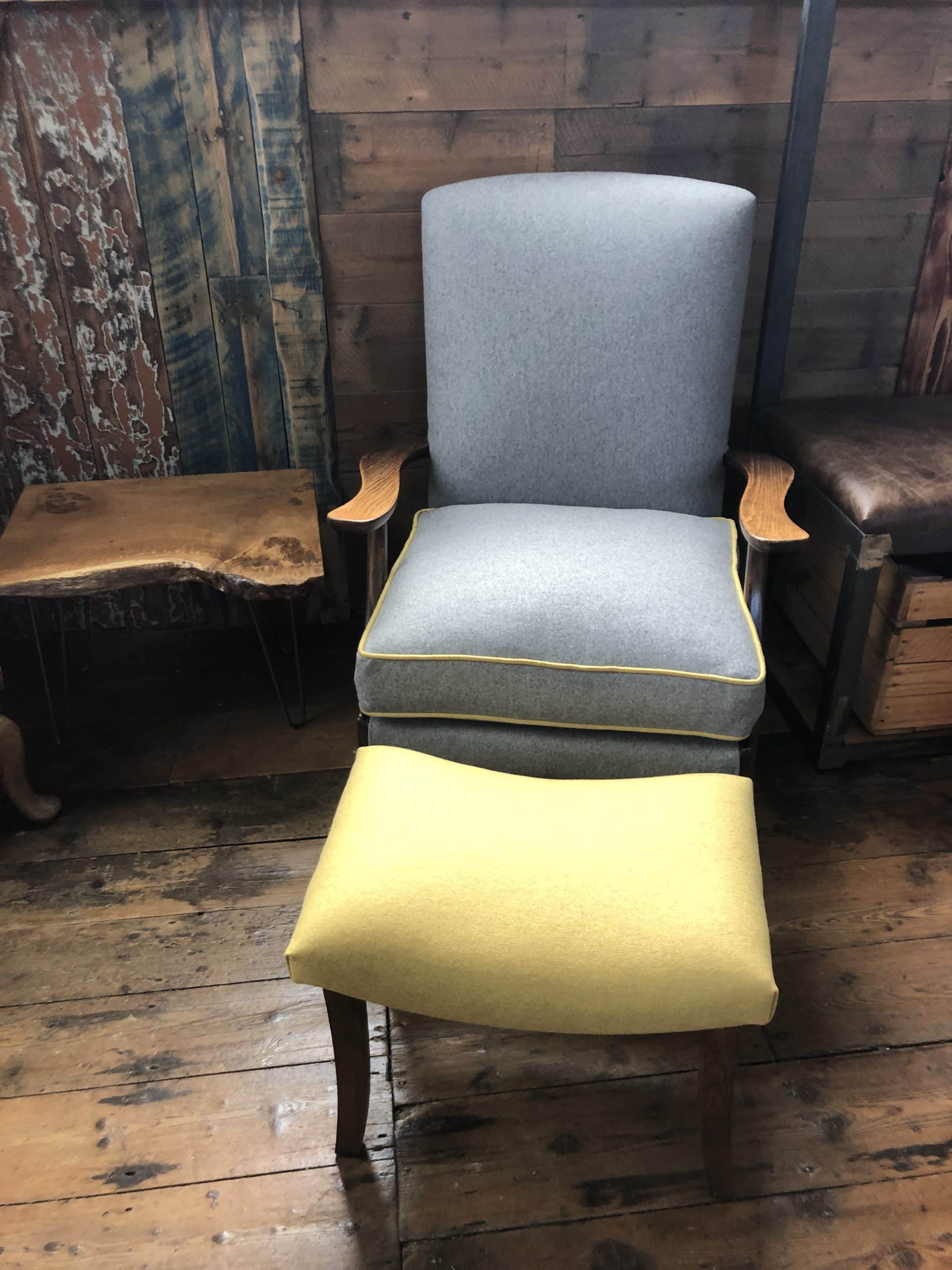 Why do we use sustainable fabrics?
Here at Semper Hopkins, sustainability is a big part of our company values and choosing materials which reflect in that matter to us. We use reclaimed materials, repurpose old furniture and use a range of hand-picked high-quality modern materials to make our custom made furniture and offer our reupholstery service from our workshop in Scholar Green, Cheshire. We care about the environment and by working with these materials and old furniture we prevent them from going to landfill. We take pride in the variety we can offer to our customers. We work with Bute, Warwick and Linwood Fabric suppliers which all provide the highest quality fabrics, they have recently introduced a number of new environmentally friendly fabrics. During this blog we will be discussing the benefits of using sustainable fabrics, the new ranges that have been launched and showing examples of how you could use it.
The Benefits of Using Sustainable Fabric
Using sustainable and recycled fabrics results in multiple ethical benefits. The eco-friendly outcomes such as lower carbon emissions, saving energy, less water usage and reduced waste to landfill create a whole new positive outlook on using recycled materials. By using repurposed fabrics and materials, you can be sure to find comfort within your decision that you have given something a new lease of life. There is a higher demand for sustainable fabrics as more and more brands are focussing on recycling unused or spare stock to limit any unnecessary waste. Not only does the planet benefit from sustainable fabrics, but also we do too. Repurposed fabrics are renowned for being high quality and durable due to the processes which it goes through. From no shrinkage after washing to adapting to temperature changes, these fabrics are the perfect addition to the home.
Bute fabric
Bute Fabric has just launched their new 'Magic Collection' which has been made using 100% recycled fibres. Their fabrics have been recycled from waste garments, which have been broken down and re-spun in order to give them a new purpose. Bute creates wool Melton in bold, bright colours which have high durability making it even more appealing to use!
The resulting Melton fabric has a full bodied, heavily milled and smooth, consistent surface and with a Martindale test result of 100,000. This fabric is sure to be long lasting in even the most demanding of interior environments. This fabric would be perfect to add a statement to any chair transformation.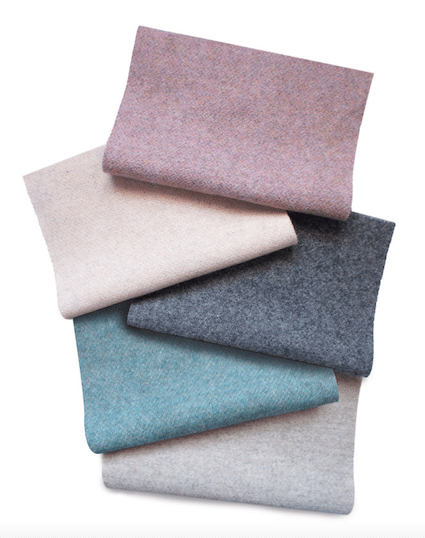 Warwick fabric
Warwick is another fabric brand we use at Semper Hopkins. Their Eco-Wools have active fibres which react to changes in body temperatures meaning they are great for all year round. The Eco Wools are inherently flame retardant, naturally breathable, wrinkle resistant and stain resistant. Warwick's fabrics are 100% Biodegradable and 100% renewable. Their recycled collections save unwanted clothes from landfill as well as saving water, carbon dioxide and energy.
Warwick's fabrics are versatile and can fit into both modern and traditional interior schemes with both plain and patterned wool fabrics to choose from. There is no doubt that you will be able to find the right fabric for your upholstery piece with the vast range!
Click below to watch how Warwick produce their fabric.
The Making of Warwick's Eco Wools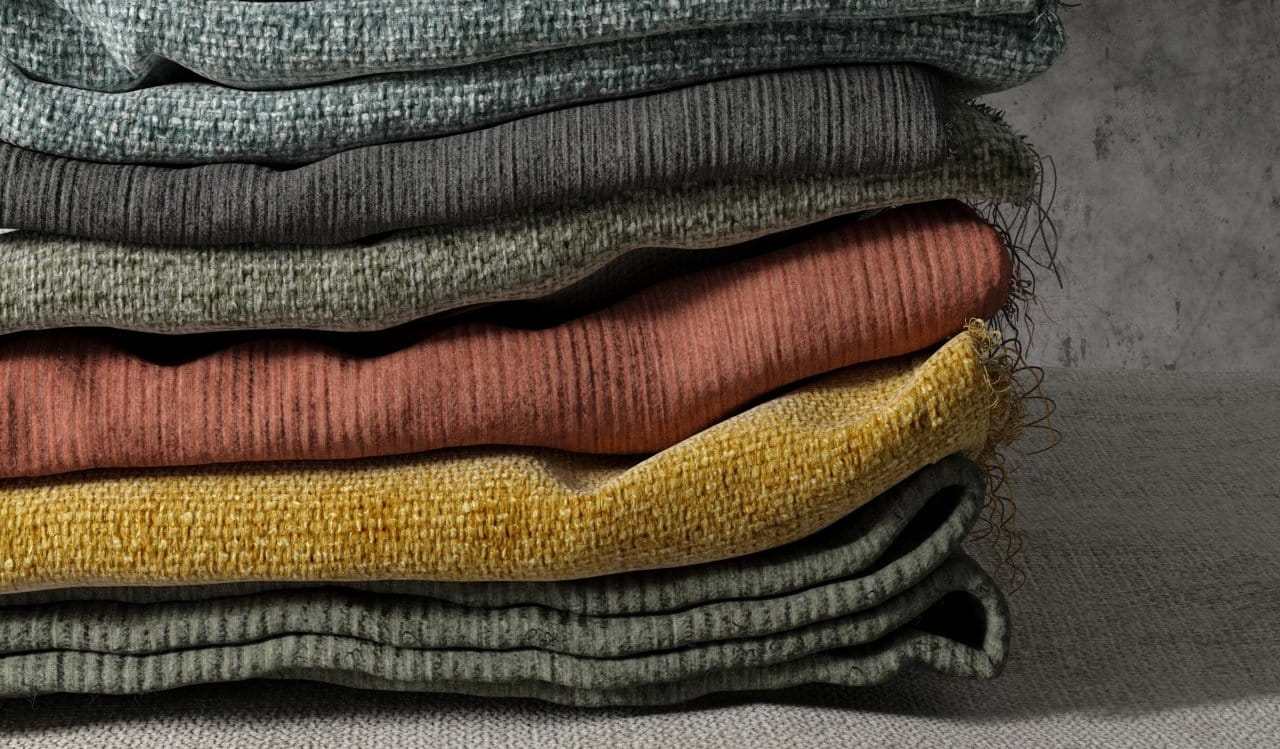 Linwood Fabric
Here at Semper Hopkins, we have used Linwood Fabric on many of our upholstery pieces, and have been so pleased with how they have come out. Linwood have brought out their new Lana range which is another great soft wool fabric which adapts to temperature changes and is also made from 85% recycled yarn. The Lana collection is naturally fire retardant which means it doesn't require any chemical treatments to be used for upholstery. There are 55 colours to choose from ranging from neutrals to rich, bright colours – your hardest decision will be choosing which one to choose from!
Below features our Storage Crate which can be made using wool or velvet fabric in a choice of your colour. Linwood fabric also works perfectly on our Industrial Chairs which is available in Linwood Wool, Leather or Velvet.
Another range brought to us by Linwood is Saddle II, which is the brands upholstered leather fabric. This collection is made from leather off cuts from shoes and bags, meaning that they are saved from going to landfill. The eco-friendly leather is 70% leather and 30% polyester and comes in a range of neutral shades. Linwood's leather range looks great on our Industrial Bar stools and benches and will make a great statement piece in your kitchen.
Verde is Linwood's new upholstery range made from 80% recycled cotton which have been offcuts from within the fashion industry and have resulted in less wasted energy and water. The cotton is chemical free, can be washed and has been double brushed so is soft on both sides. Verde has a range of 46 shades from fresh, neutral shades to rich blues and greens. This durable fabric is ideal for curtains, loose covers and upholstery and is easy to maintain – it can even be washed at 30º with no shrinkage.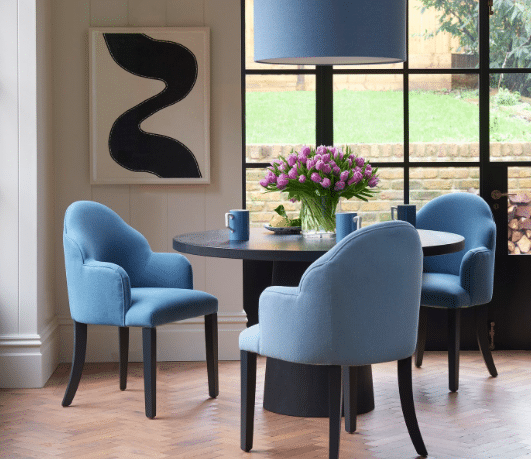 Do you need help choosing a sustainable / recycled fabric for your next upholstery project or custom made piece of furniture handmade from our Cheshire workshop?
We can help you:
👍🏻choose a fabric you will adore, as well as considering all the practical things that you might not have thought of.
👍🏻add design details and flourishes that will give your piece a new, unique character.
The end result is a totally personal and unique piece that you'll love. Get in touch to start your project call on 01260609021 or email hello@shupholstery.co.uk.
https://shupholstery.co.uk/wp-content/uploads/2021/03/IMG_4630-scaled.jpg
2560
1920
Emma Semper Hopkins
https://shupholstery.co.uk/wp-content/uploads/2018/02/semper-hopkins-logo.png
Emma Semper Hopkins
2021-03-29 16:39:03
2021-06-15 12:20:42
Choosing Sustainable Fabrics