Upholstery is more than just fabric?.going below the surface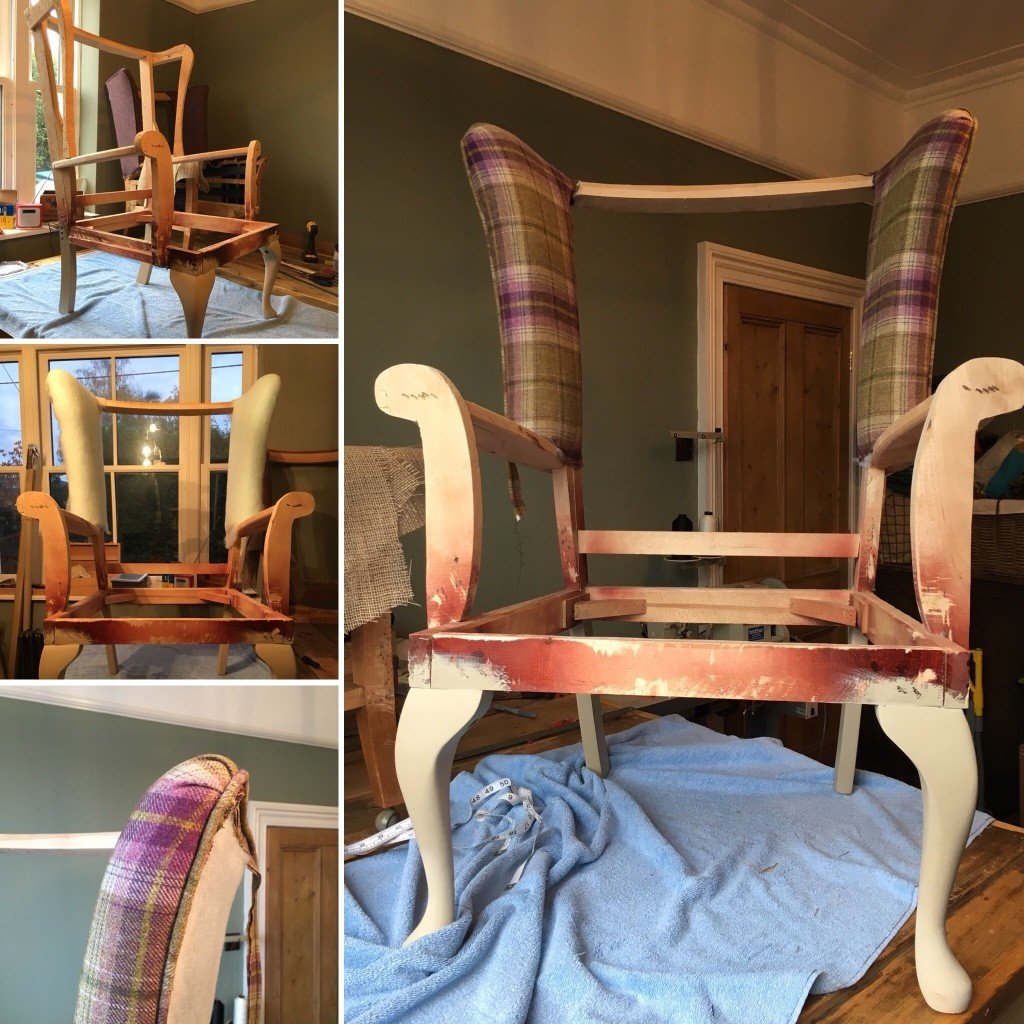 Many people think that upholstery is simply replacing the fabric; the truth is we actually strip back and re-build the entire piece of furniture. The product you receive at the end of its journey has basically been re-born.? There are several stages to rebuilding any piece. This process takes time and is very labour intensive and is primarily achieved with experience, a few tools and hard work using your hands.
I thought it would be interesting to share some of the stages of upholstery and the journey of a client?s Wingback Chair transformation. Here are some of the stages which will take you below the surface
Design and consultation?
Before we start any work on a piece of furniture we will have a consultation with you to understand your design needs and wants. For this particular transformation the client provided me with a list of colours to be included in the fabric but gave free reign on the design. The client selected a fabric from a range of samples, we then discussed and decided on design options, and paint finishes for the chair legs.? We were ready to now start work stripping back the chair and the rebuild.
Stage 1: Stripping back to the frame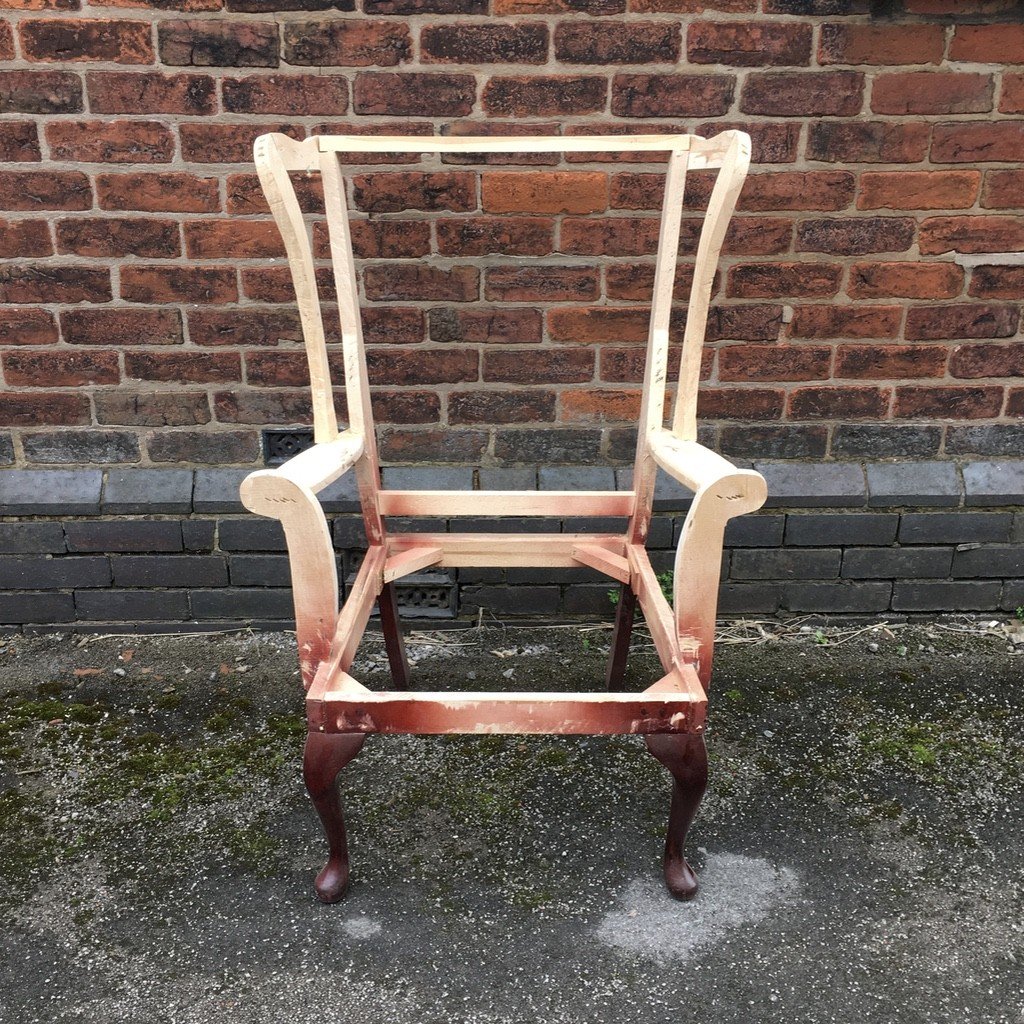 This is an extremely labour intensive stage removing hundreds of staples and tacks. You never know what you find down the back of someone?s? old chair or sofa. Unfortunately, so far we haven?t found anything more than few decades? worth of dirt!
Stage 2: Arms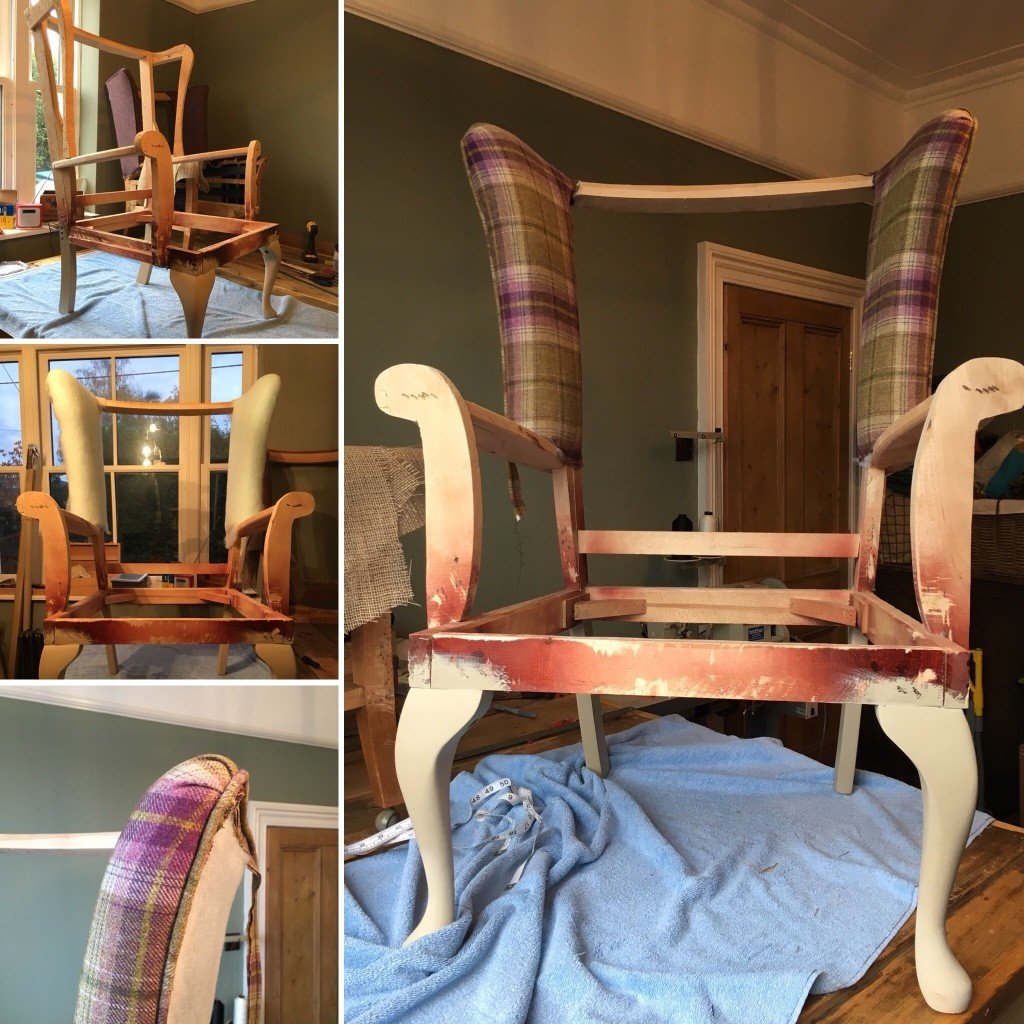 Each piece of furniture is different in design. Some arms can have simple pleats and tucks, decorative stud detailing, others can have decorative piping. It will be down to the construction and design of the chair frame.
One benefit of rebuilding your chair from scratch is you can decide how wide you would like the arms to be. You can add more depth for comfort but you need to consider the wider you go the thinner your seating area will be.
Stage 3: Back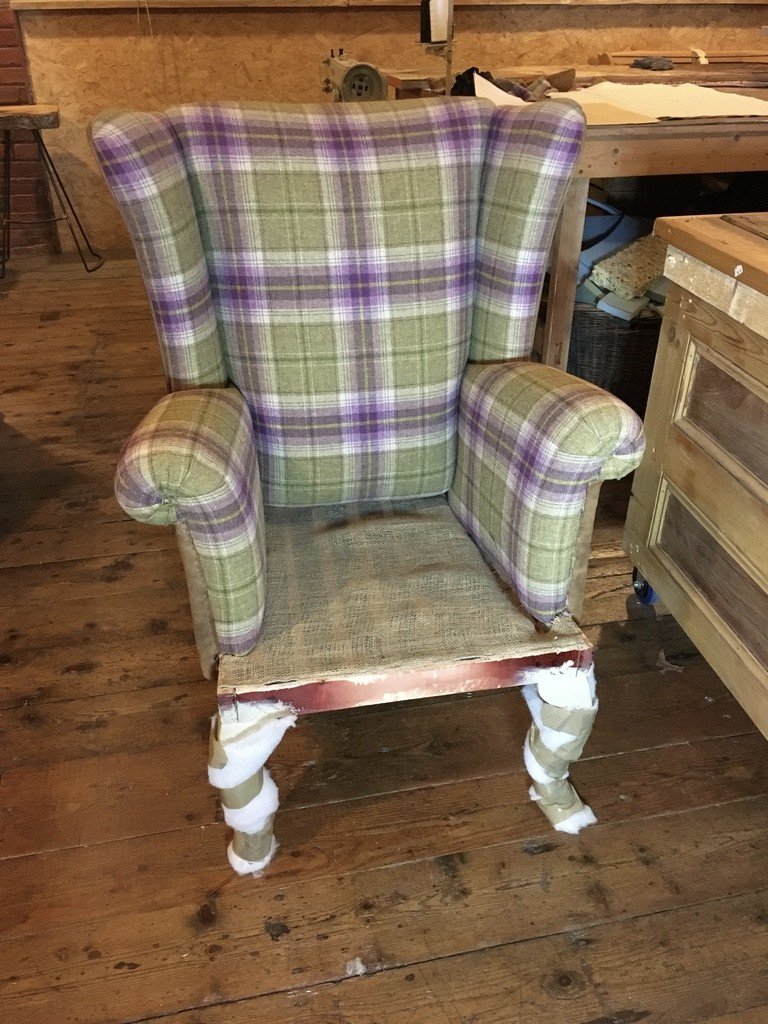 The chair back is the next stage of its journey. Putting a piece of furniture back together is a bit like a puzzle. It needs to be done in a logical order if you don?t do it right you won?t get the correct answer at the end. This is why it is not as simple as removing the fabric and recovering. There are approx. 8-10 stages involved to create the seat back depending on if it is plain or buttoned. We can share updates with you during the re-build process. I sent some pictures to the client showing their chairs journey and she said ?WOW, WOW, WOW. That?s definitely not the chair I brought along to you it looks amazing and you?ve even changed those horrible front legs into something more shapely. Its more than I ever expected. Thank you for keeping us updated. ?
Stage 4: Seat?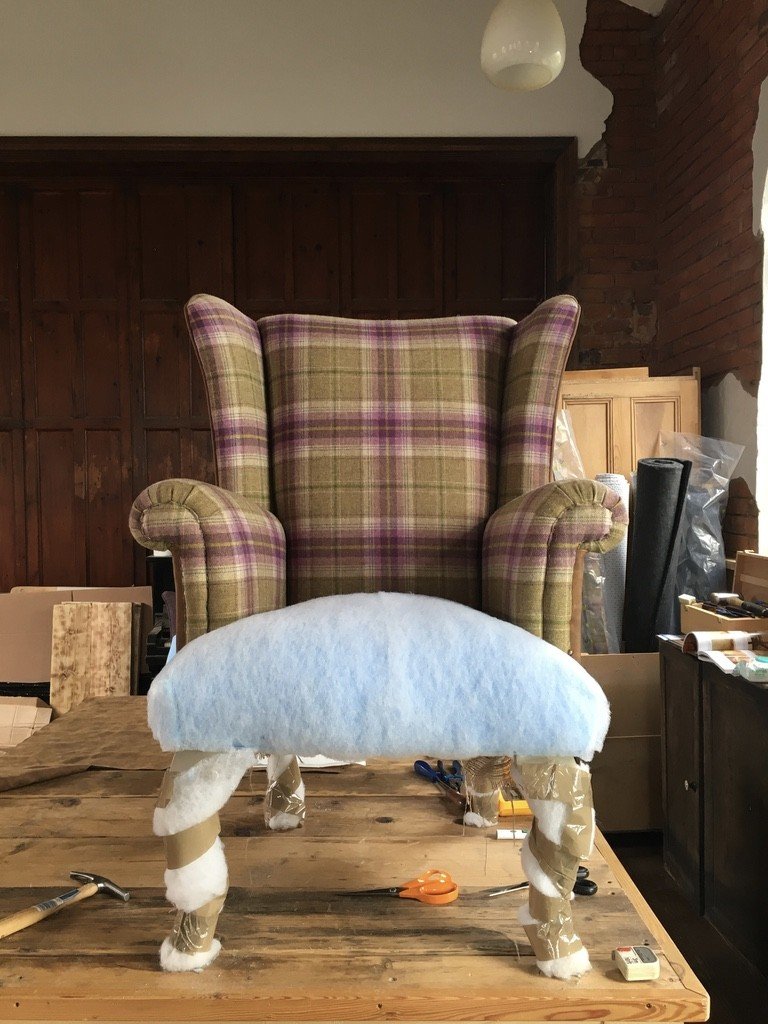 You are nearly there when the chair seat goes into place. You can start to see the end of the journey & the chair transformation becoming complete. Still a comprehensive stage ensuring you get the right level of comfort. After this stage you will finally add the outside arms, wings and back.
Stage 5: Outside Arms, Wings and Back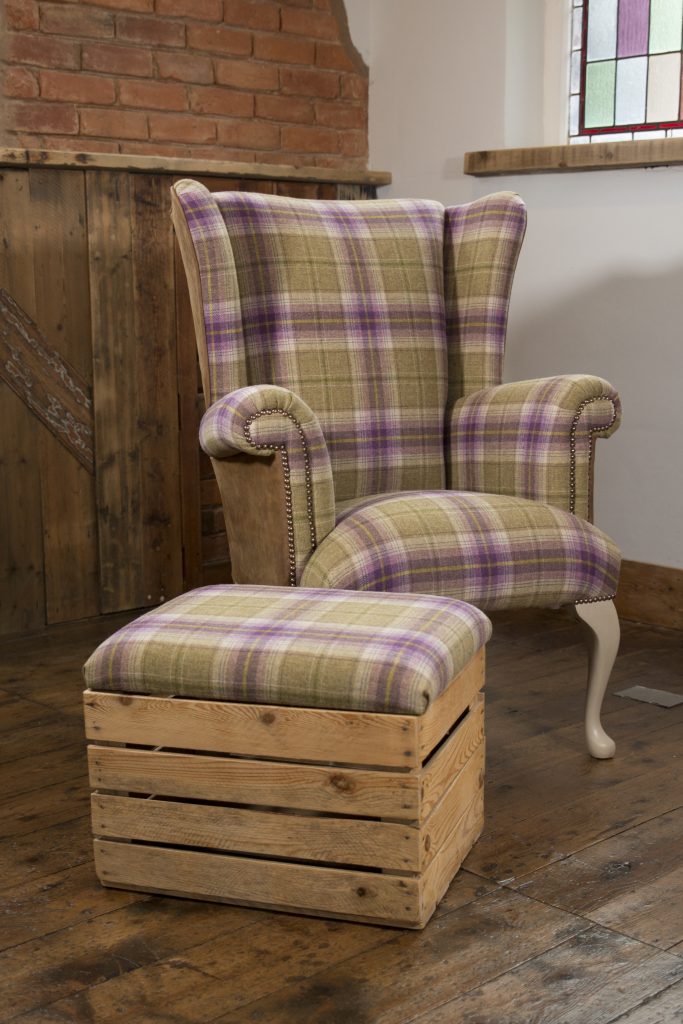 Initially we had set out to complete the chair in the same patterned fabric. I reconsidered the original design and thought using tan leather on the outside back and arms would enhance the finished product. I contacted my client and they came down to have a look. They were really pleased with the design change and we continued to build. This is one benefit of working with Semper Hopkins Upholstery & Interiors you get consulted throughout the process.
So why bother with upholstery?
You get to give your favourite Wingback Chair or any piece of furniture a new lease of life, a new identity that you can decide on.
Your piece of furniture will be one a kind like no other
You and your family can cherish and enjoy your furniture for many years to come
You are recycling and making use of old rather than buying new.
As a small family run business we will ensure you receive a truly personal service, be it for your own home or business. If you have a piece of furniture that deserves a new lease of life then we can be trusted with the transformation. If you wish to find out more and to discuss your requirements, then we would be delighted to hear from you. We love our creations and we hope you will too
https://shupholstery.co.uk/wp-content/uploads/2018/02/thumb_eb062ca7-024d-4439-981e-c3d500f2c792_1024.jpg
1024
1024
Emma Semper Hopkins
https://shupholstery.co.uk/wp-content/uploads/2018/02/semper-hopkins-logo.png
Emma Semper Hopkins
2018-02-15 11:55:19
2021-06-15 11:26:16
Upholstery is more than just fabric?.going below the surface