Where do our ideas come from? What inspires a new product idea?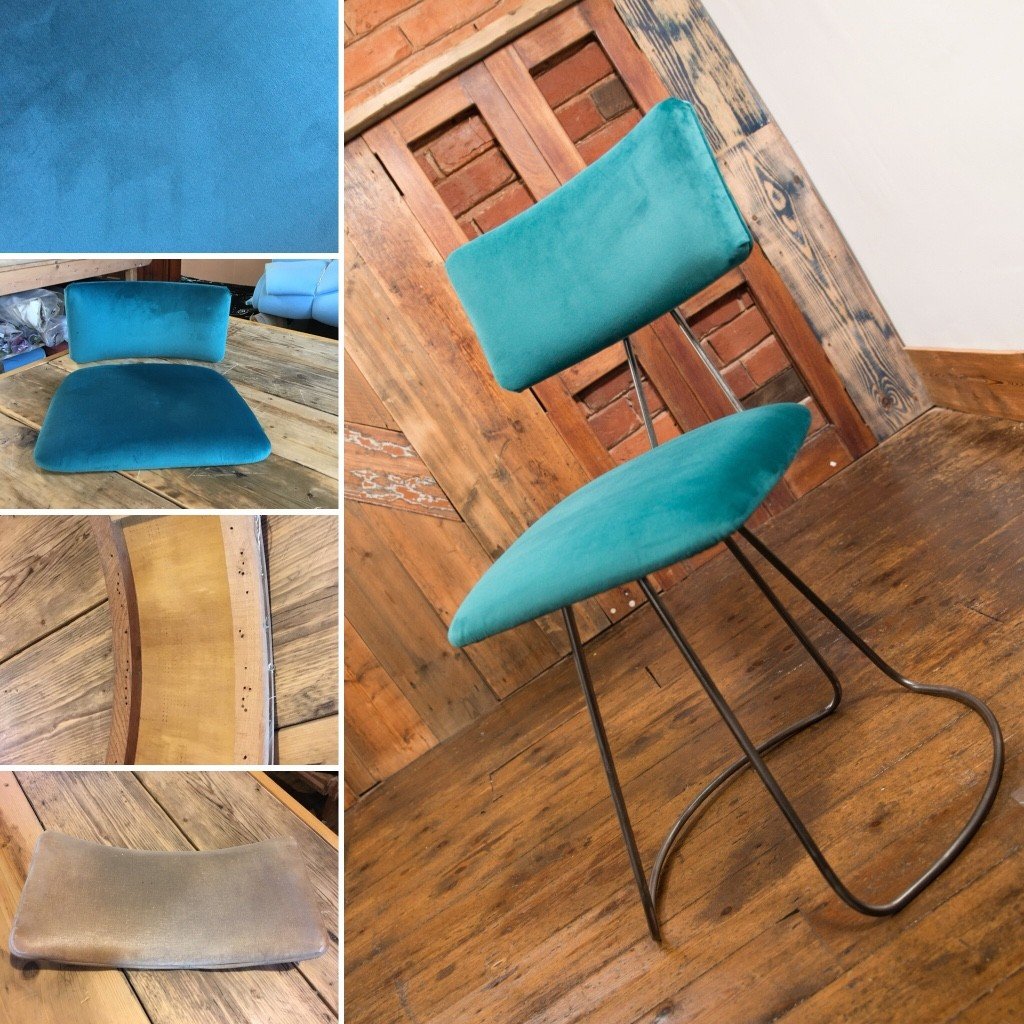 People often ask us where do your ideas come from? What inspires you? Dad and I are very alike; our heads are often swimming with new ideas. We can often spend many hours in the chapel chatting and laughing about what we could make next. We know when one or the other is thinking of something new when we start the conversation What do you think about this? We then have to remind ourselves we do have to get on with some work ? In this post I will write about three things that give us inspiration
?1. Old pieces of furniture, often someone else?s junk?
Old or unloved pieces of furniture are possibly one of our biggest sources of inspiration. Often seeing someone else?s junk thinking we could make something cool out of that. The seat and back rest of this handmade Industrial design chair with back rest in Teal velvet originate from a 60s dining chair. They have been newly upholstered in teal velvet and an industrial style frame has been commissioned by a local blacksmith
2. Reclamation yards & Interior design
We are inspired by different eras of interior design and raw materials often mixing different periods to create stylish spaces and distinct pieces which can be seen in the work that we produce and is reflected in the converted Chapel that we work from.
This workstation is inspired by industrial design and reclaimed materials. The distinct table top design is made from reclaimed oak parquet flooring which was recovered from an old school. It has been waxed and polished to give an excellent finish. The table top sits within an industrial design steel box frame which has been made by a local blacksmith.
3. Anything that is around?
We aren?t always looking for inspiration. I often come across things in my day to day environment that will spark a thought, which will then lead into an idea. I was expecting our little boy Alfie we didn?t have any suitable storage for toys. We had an old crate at home that was a suitable size. We designed and made an upholstered lid so that it became a seat/footstool as well as a storage box. Soon all my friends & family started to see it and said what a great idea it was. We now have a range of bespoke apple crates.
Using our?mix of?imaginative?ideas, we?take pleasure in designing, and?creating beautiful handmade pieces?whether it be providing a reupholstery service, working with?reclaimed materials and old furniture, or restoring much loved family heirlooms.? If you are interesting in hearing more then please join our mailing list. You will then be able to watch out for our next blog feature where we will share more on how we make an idea come to life.
https://shupholstery.co.uk/wp-content/uploads/2018/02/thumb_14e32cca-3166-47ff-a0a9-c38bdf139034_1024.jpg
1024
1024
Emma Semper Hopkins
https://shupholstery.co.uk/wp-content/uploads/2018/02/semper-hopkins-logo.png
Emma Semper Hopkins
2018-02-15 12:11:00
2021-06-15 11:45:49
Where do our ideas come from? What inspires a new product idea?