Ten practical uses for a upholstered footstool / storage crate
People often look at our bespoke apple crates and think that?s a really great use of an old apple crate, but have you ever wondered how many practical uses it actually has? In this article we will share with you our top ten uses for an upholstered storage crates.
1.Footstool
One of the most popular uses for our bespoke apple crates is a footstool. It's a stylish piece of furniture to go with an armchair or sofa and a great place to rest your weary feet at the end of a long day.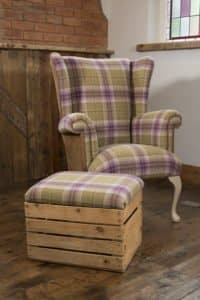 2. Seat
Do you struggle for seating when you have extra guests? The crates are multifunctional storage and seating. You might be using it mainly as a storage box but you can easily pull it out as an extra seat for a busy period like Christmas or a dinner party, as it has a really comfortable upholstered seat.
3. Pet box
We've often been approached by our clients to make them a toy box for there much loved pet. It's a great place to store their toys and leads, as well as a perfect seat for them.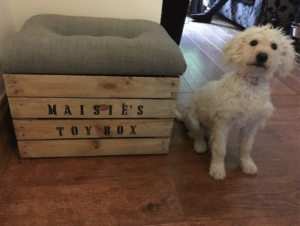 4. Shoe storage
Do you often walk through your front door to find piles of shoes to trip over?? The crates are a stylish seat and practical storage box to put your shoes in. You can even have one each so there are no arguments!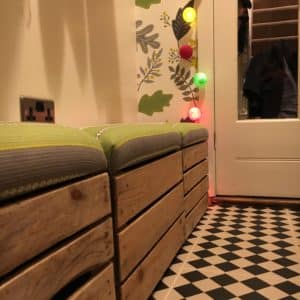 5. Hobby box
We all love to have a hobby like sewing, knitting, painting or a collection of something but do you often find you have no dedicated place to store it? The crates are perfect and we?ve often been asked by clients to make them as gifts for a friend of family member.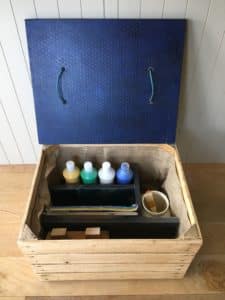 6. DVD & Music storage
Do you have a pile of CDs and DVDs lying around in your lounge? The crates are 50cm x 40cm x 30cm so there?s plenty of storage for your favourite music and film collections.
7. Store your logs and kindling
We all love a cosy fire on a dark winter?s evening but often have no dedicated basket for the logs. The crates are an ideal storage place. They can be made with a hessian liner to catch all the pesky bits that drop off, and an upholstered top if you need a seat.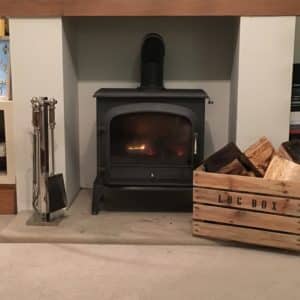 8. Toy box
At the end of a busy day when all you want to do is sit down and watch tv, do you look around and see your room is over run with children?s toys? Do you need a toy box that doesn?t look like the standard ones on the market? ?The crates are stylish and practical storage box that will fit in with almost any design scheme. As you can choose the colour of the fabric. You?ll no longer have to sit and look at it, it will be stored away and you can rest your weary feet after a long day.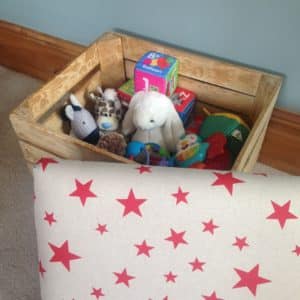 9. Store your favourite Gin collection
Do you have a favourite tipple? A great and handy place to store your collection.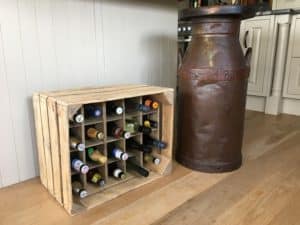 10. Place to store unwanted things like Bills
You must have a pile of stuff you need to do something with but don?t want to. A great storage place for this, out of sight out of mind!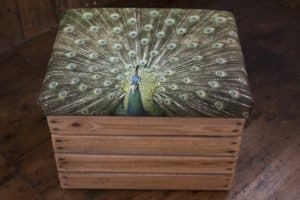 Do you find you struggle with lack of storage or a need for extra seating when you have visitors? Our custom made, reclaimed upholstered apple crates are a stylish & multi-functional storage solution that also serves as a comfortable, eye-catching seat. You can tailor-make your design to suit your style by choosing from a variety of fabrics finishes and colours. Order now through the website.
We are a customer led workshop, so if you still can?t find looking for, we will endeavour to solve this problem. Book a design consultation to discuss your ideas.
https://shupholstery.co.uk/wp-content/uploads/2018/02/semper-hopkins-logo.png
0
0
Emma Semper Hopkins
https://shupholstery.co.uk/wp-content/uploads/2018/02/semper-hopkins-logo.png
Emma Semper Hopkins
2019-08-22 07:53:48
2021-06-15 16:30:19
Ten practical uses for a upholstered footstool / storage crate