Five Reasons why we choose to work with reclaimed wood to make our furniture
People often ask us why do we make our reclaimed wood tables from old timber instead of new?? After all, it?s often easier to use new timber because you can see what you are buying and most old wood is covered in layers upon layers of dirt and grime. ?In this article we will share five reasons why, despite the dirt, we still build our tables from reclaimed wood.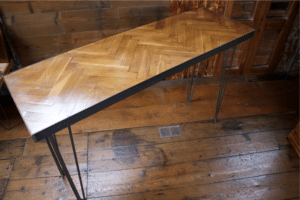 1.We love the story and character of reclaimed wood.
Each piece of reclaimed wood is steeped full of history and character and no one piece will be like another. Once you start working with a piece of old wood you begin to see the character markings and patina, you cannot buy this with a new piece of wood.?
We love to know where our wood is sourced from so we can tell a story about each table that we design and make. We use a mix of reclaimed flooring, wooden parquet blocks, old wooden joists and scaffolding planks.? We love the fact they are all unique and so do our customers.?
Families will be able to tell a story about their custom made table? which will be enjoyed for many years to come.?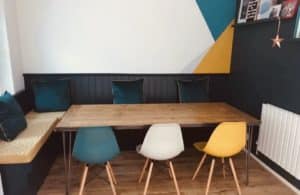 2.We love to give old wood a new life
Anyone knows us knows we don?t like waste and we love to give old things a new lease of life, this includes wood. We use materials like wooden joists and floor boards from period house redevelopments to make our reclaimed wood tables. We are also proud to use materials that may have been burnt or sent to landfill. It?s a great feeling knowing we?ve helped the environment a little bit more.?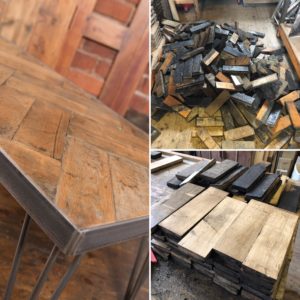 3.We care about the environment
We like to know we are doing our bit for the environment. Using reclaimed wood decreases the demand for new timber, which helps preserve the countryside rather than deplete it. To process new timber trees have to be felled, transported and milled, which uses energy that has an impact on the environment.? We are reducing the demand for new timber thus reducing the impact on the environment.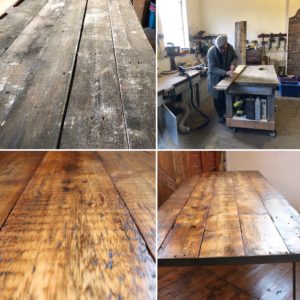 4. We use reclaimed wood because its durable and stable
We use old wood to make our reclaimed wood tables because is extremely durable and stable.? New timber is prone to shrink and move due to changes in temperature and humidity. New timber needs to be left to dry for a long period to allow for these changes to happen. Due to its age reclaimed wood has already been exposed to these environments therefore making it a great material to make tables.? ?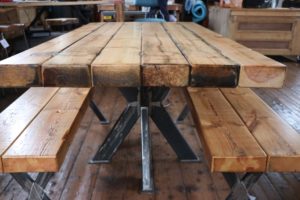 5.We love the fact that reclaimed wood is original and not mass produced.
All of the pieces of furniture that we produce for our clients are unique and one of a kind. They come to us because they want something that they can?t get from the high street that may have been mass produced. We choose to use reclaimed wood for this reason, each piece is individual and cannot be replicated. Its original and stands out which is why our clients love the pieces so much.?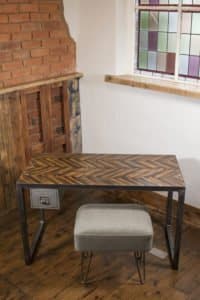 We can design and hand make beautiful, original reclaimed wood tables for our clients that each have their own story and character.
Are you looking for a dining table that makes an impact on your visitors but not on the environment? Do you need a desk that is both stylish and practical??
We can help.?
Book a design consultation today and we can chat about your ideas or browse the website for inspiration.
https://shupholstery.co.uk/wp-content/uploads/2018/02/semper-hopkins-logo.png
0
0
Emma Semper Hopkins
https://shupholstery.co.uk/wp-content/uploads/2018/02/semper-hopkins-logo.png
Emma Semper Hopkins
2019-07-31 10:32:30
2021-06-15 16:32:42
Five Reasons why we choose to work with reclaimed wood to make our furniture