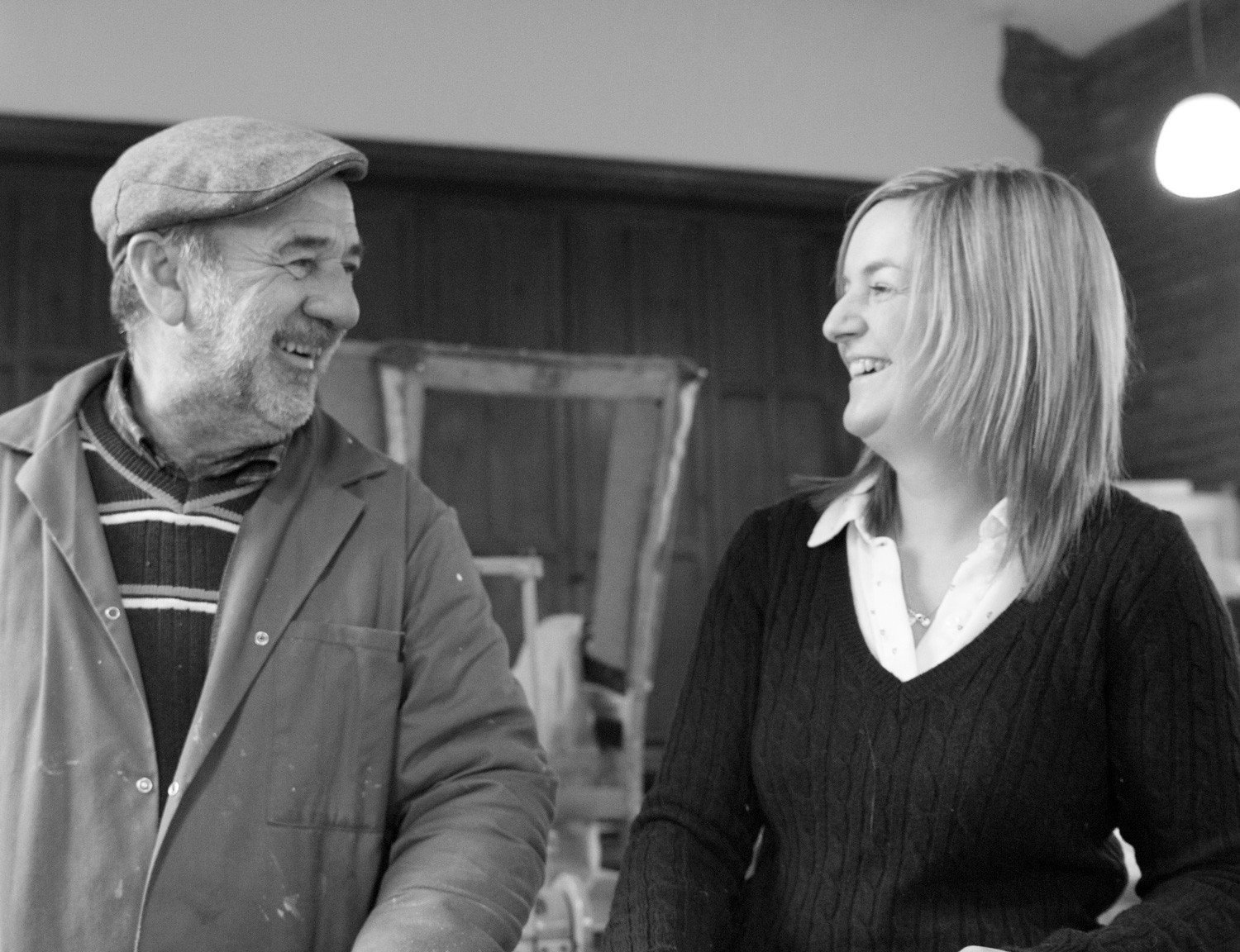 Many years ago I began making soft furnishings for my own home. I enjoyed working with an exciting variety of fabrics, quickly developing a passion for creating something to make my home beautiful.
I found myself spending many an hour providing ideas for interiors or soft furnishings for family and friends. I thought to myself there is a business here.? Determined to pursue my passion beyond this I started a Diploma in Professional Interior Design through the National Design Academy in Nottingham, whilst holding down a full time job in the corporate world. I had plenty of opportunities to practice my new skills as at the same time we were renovating an old doctor?s surgery into the four bedroom Victorian house in which we now live.
Wanting to furnish my new home in unique period pieces with a modern twist, I discovered a new passion of mine; industrial, traditional period and French furniture. I quickly recognised that to restore these beautiful authentic pieces I needed specific training so I embarked on another exciting adventure and enrolled on an evening upholstery course at the Ministry of Upholstery In Manchester, working predominantly on Victorian & period furniture. My first project of many was a stunning wingback chair and I loved learning these new skills.
Developing new techniques and exploring my passion excited me however I was still working full time and really wanted to know how to turn my hobby into a business. I therefore enrolled onto the Ministry of Upholstery?s business course to help set up Semper Hopkins Upholstery & Interiors. Having my little boy changed everything, I was determined my life was about to take a new turn.
No longer wanting to work away from home or my son, I started to take substantial steps towards making Semper Hopkins Upholstery and Interiors a successful business. The biggest challenge I faced at the time was space as furniture and fabrics started to take over my home. I was never able to find my husband or little boy amongst it all! As luck would have it something very fortunate happened; Old Kent Green Methodist Chapel, right next door to our home went up for auction. With nerves jangling and excited anticipation we were the successful bidders! The evolution of Semper Hopkins Upholstery & Interiors was to continue.
With the help and support of all my family, we started the process of obtaining planning permission to transform the chapel into a workshop studio for Semper Hopkins Upholstery and Interiors. Once planning permission was successfully granted, the renovation of our future business premises began with my long suffering dad being in charge of sympathetically restoring the chapel, in which he has spent many a painstaking hour, in preparation for opening The transformation of the premises is testament to his hard work and dedication to the business and of course his enduring love for me.
My Dad?s talents do not stop at renovating property as he plays a key role in the business by way of transforming old furniture or creating new pieces out of anything he can lay his hands upon! When he is not working on projects he is out and about sourcing intriguing new materials and gaining inspiration. Examples of his distinctive, unique and exciting work can be seen on our website.
Planning to leave the security of my full time job and taking on such an ambitious project has been a daunting experience at times however the complete love for what I do always motivates me. When I am trusted to restore a much loved family heirloom or have the opportunity to create beautiful bespoke handmade pieces to order, the sense of reward it provides me when I see the joy it gives to clients makes my decision to sacrifice the security of full time employment completely justifiable and I know I have chosen the right path.
The chapel renovations are due to be completed in 2018 and Semper Hopkins Upholstery & Interiors is excited to embark on new adventures in Spring of 2018. For updates on the renovation, view our latest projects and to find out first which fairs we are exhibiting at please join our mailing list here or join our social media pages.
https://shupholstery.co.uk/wp-content/uploads/2018/02/about-semper-hopkins-cropped-bw.jpg
1152
1500
Emma Semper Hopkins
https://shupholstery.co.uk/wp-content/uploads/2018/02/semper-hopkins-logo.png
Emma Semper Hopkins
2018-02-21 10:40:06
2021-06-15 16:42:08
Our Story