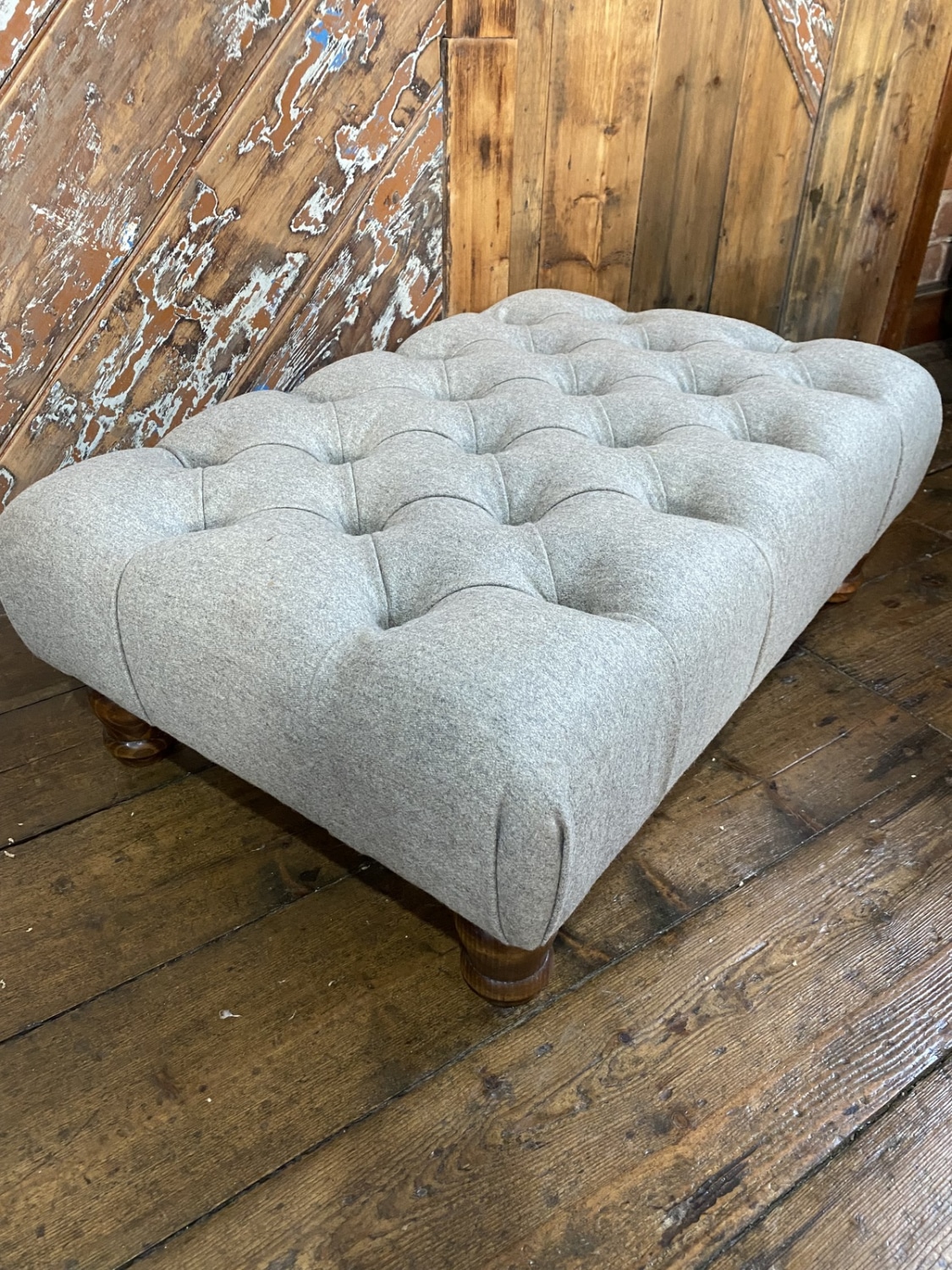 One Day Deep Button Footstool Workshop
This one-day workshop is designed to give you an introduction to the craft perfect if you want a taster into the world of upholstery and unleash your creative side.
You will learn about the tools and materials needed for upholstery and will be taught how to make one of our stylish footstools. The stools could be the centre piece of your lounge or bedroom or are perfect for a snug or den.
The size of the stools are approx 55cm wide x 70cm long x 30cm high
For each stool you will be provided with the frame, legs and upholstery materials.
The workshop is perfect for beginners or for those with some experience looking to expand their skills
You will learn to.
Staple elasticated webbing and hessian to a wooden frame in preparation for your deep buttoned footstool.
Prepare the foam for deep buttoning including marking out the foam, drilling holes, and applying dacron.
prepare your fabric including marking out for buttoning, measuring and cutting the fabric
Learn the process behind planning where the buttons will go.
make your own fabric buttons
Apply the buttons and to do pleating and corners
Finish and fix the legs to your stool.
We keep the class size to no more than six people so you will get lots out of the day. We supply you with all the tools & materials including a metre of fabric from the fabulous Warwick Amatheon Wool range which retails at £40 per metre.
You need to choose the fabric colour and confirm this when you book the course. You can view the fabric colours available here and order free fabric samples via the Warwick website.
If you need any help with fabric selection then please get in touch with us and we can point you in the right direction.
The workshops are held in our beautiful workshop, a converted Methodist Chapel, in Scholar Green nestled in the peaceful Cheshire countryside.
The course will start at 9am finishing at approximately 4.30-5pm. Hot drinks are included throughout the day. You will need to bring your own packed lunch with you.
Our footstools are both decorative and practical for personal use but also a lovely gift to be given to family or friends too.
You could attend the workshop and make the footstool for yourself or buy it as an experience day for a creative loved one. If you are buying as a gift please leave their name in the 'additional information section' at the check out
The safety of our clients and staff are always of upmost importance.
Our COVID-19 safety features are detailed below to allow for your wellbeing and creativity to co-exist.
*Each workshop kept to a maximum of six attendees.
*Online pre-booked sessions only
*Masks / Face Visors to be worn at clients own discretion. It is not compulsory.
*A large open workspace with social distancing measures in place
*Protective screens between split workspaces
*Hand sanitisers situated throughout all areas
*Each attendee is provided with their own tools
*Shared handheld tools are cleaned between use.
*Track and Trace.
Short Bullet Points
One day workshop where you will learn to make one of our beautiful deep buttoned footstools.
Suitable for Beginners or those wishing to expand their skills.
1 metre of fabric included in workshop cost.
You will learn about the basic tools and materials needed for upholstery
You will be taught the technique of deep buttoning.
You will learn how we plan a template for buttons and get to make your own buttons
Fixing and finishing legs