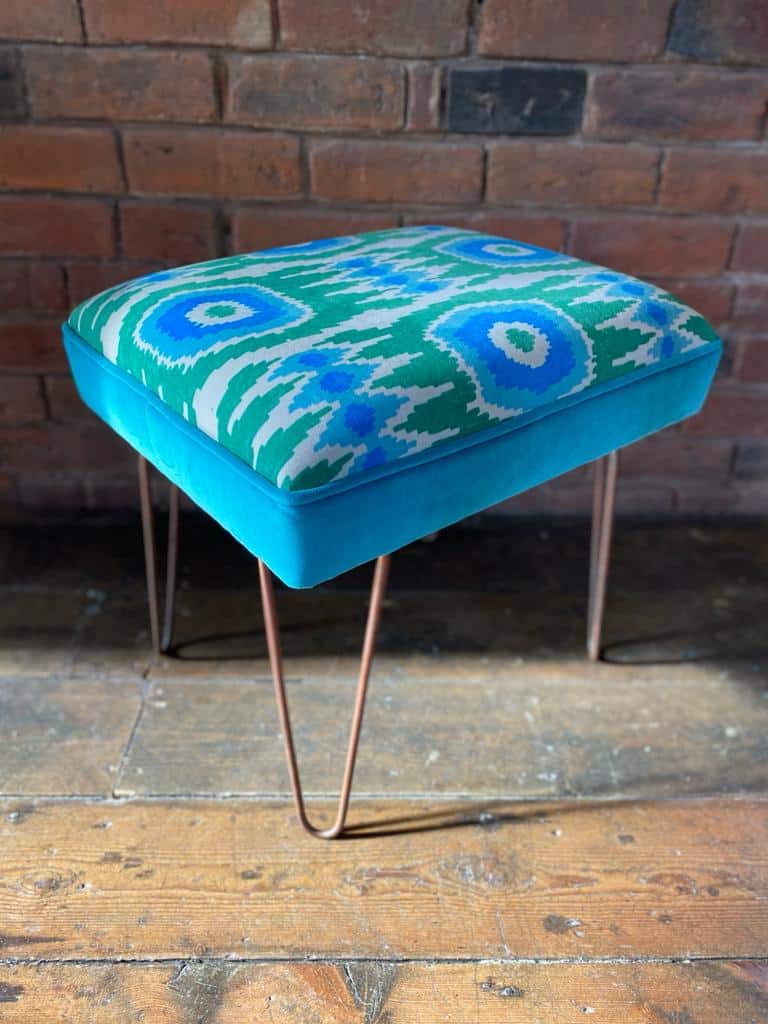 One Day Stool Workshop
Summary of workshop:
One day workshop where you will be taught how to make one of our stylish stools with a choice of industrial style legs.

Suitable for beginners

Learn about the basic tools and materials needed for upholstery.

You are supplied with all the tools & materials for the course.
Please bring 1m of your own fabric suitable for upholstery use.

You will be taught techniques like gluing and stapling foam, measuring and cutting fabric, cutting corners, making piping, making fabric side panels.
What happens next:
After you have booked a place on this workshop you will be sent a confirmation email and ticket, which will include a guide to finding fabric.
Please remember to organise your fabric well in advance of the workshop.
You will receive a email reminder approximately ten days before your workshop letting you know what you need to bring on the day
We keep the class size to no more than six people so you will get lots out of the day. We supply you with all the tools & materials needed you just need to bring 1m of your own fabric suitable for upholstery use. If you need any help with fabric selection or advice on types of suitable fabric then please get in touch with us and we can point you in the right direction, or you can buy your fabric through us.
The workshops are held in our beautiful workshop, a converted Methodist Chapel, in Scholar Green nestled in the peaceful Cheshire countryside.
The course will start at 9am finishing at approximately 5pm. Hot drinks are included throughout the day. You will need to bring your own packed lunch with you.
Our stools are both decorative and practical for personal use but also a lovely gift to be given to family or friends too.
You could attend the workshop and make the stool for yourself or buy it as an experience day for a creative loved one. If you are buying as a gift and don't know the date you want to come, please add details of this in the additional information box when booking or by contacting us at hello@shupholstery.co.uk
The safety of our clients and staff are always of upmost importance.
Our COVID-19 safety features are detailed below to allow for your wellbeing and creativity to co-exist.
*Each workshop kept to a maximum of six attendees.
*Online pre-booked sessions only
*Masks / Face Visors to be worn protecting both staff and guests at clients discretion
*A large open workspace with social distancing measures in place
*Protective screens between split workspaces
*Hand sanitisers situated throughout all areas
*Each attendee is provided with their own tools
*Shared handheld tools are cleaned between use.
*Track and Trace.
Short Bullet Points
One day workshop where you will be taught how to make one of our versatile stools with industrial legs
Suitable for Beginners
Bring 1 metre of fabric
You will learn about the basic tools and materials needed for upholstery
You will be taught techniques like gluing and stapling foam, measuring and cutting fabric and cutting corners.
Fixing and finishing legs