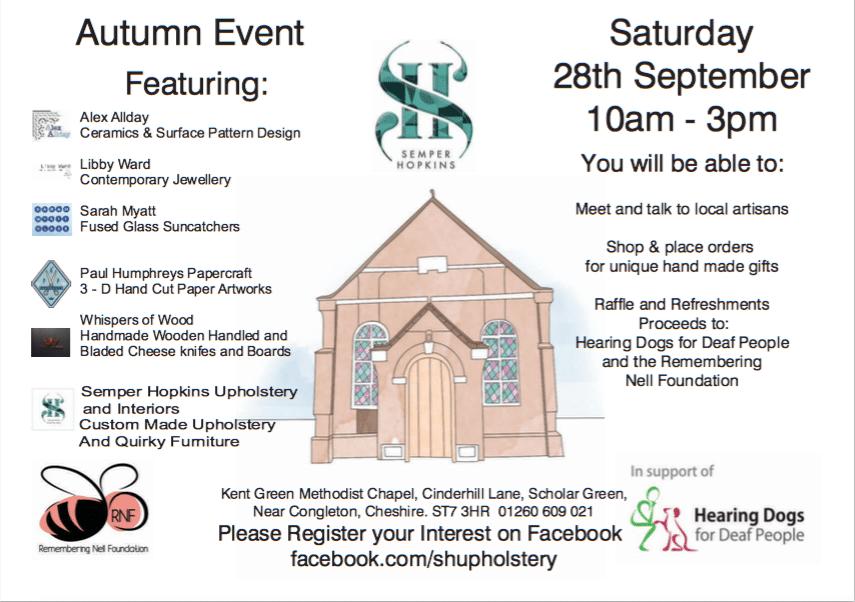 On Saturday 28th September 2019 we will hosting an Autumn event from our workshop in Kent Green Chapel, Scholar Green, Cheshire.
If you are renovating or restyling your home come and pay us a visit. Take the opportunity to browse our range of custom made industrial furniture for ideas & inspiration, or try it out and experience it for yourself. Dad and I will be on hand to give you expert advice or book a design consultation to discuss your ideas in more detail.
Enjoy autumn themed home-made cakes and partake in the amazing raffle. With proceeds being donated to our charities of the year The Remembering Nell Foundation and Hearing Dogs for Deaf People.
We have invited five local artisan businesses to join us. We believe in the power of local communities and business supporting each other. Come and join us at our Autumn event.
Featuring
? Alex Allday – Ceramics & Surface Pattern Design
? Libby Ward – Contemporary Jewellery
? Sarah Myatt Glass-Fused Glass Suncatchers
? Paul Humphreys Papercuts – 3 – D hand cut paper artworks
? Whispers of Wood – Handmade wooden handled and bladed cheese knives and boards
The day is going to be inspiring and full of talented artisan businesses for you to get to know. Register for your Autumn event tickets at Eventbrite